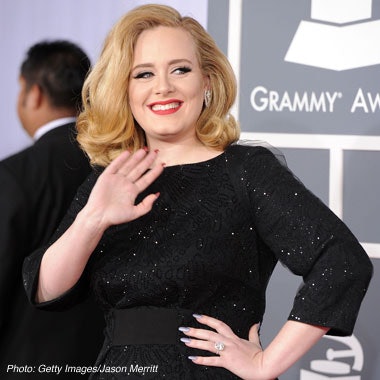 By far the best when it comes to outstanding red carpet nails is the Grammy Awards, and this year certainly didn't disappoint!
Besties Rihanna and Katy Perry showed off their stunning nails courtesy of celeb tech Kimmie Kyees. (Well, we know for certain that Kyees did Perry's nails, and judging by last year, she most likely painted Rihanna's as well).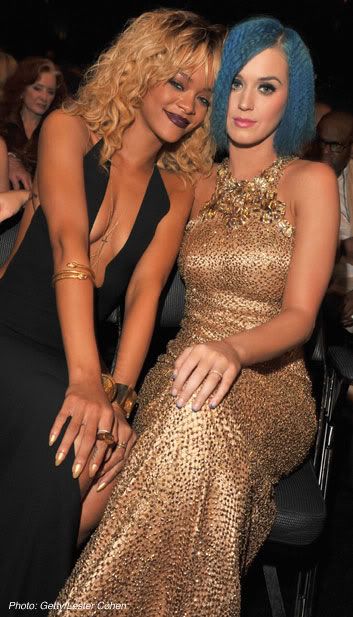 It seemed the theme for this duo was coif matching lacquer. Rihanna's almond-shaped tips were metallic gold, just like her new mane. And blue bobbed bombshell Perry sported a conservative length azure-tipped French.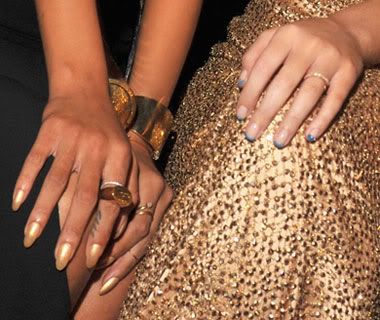 Winner of the Country Album of the Year award, Lady Antebellum member Hillary Scott showed off a luxe Velvet Manicure when holding up her winning statue.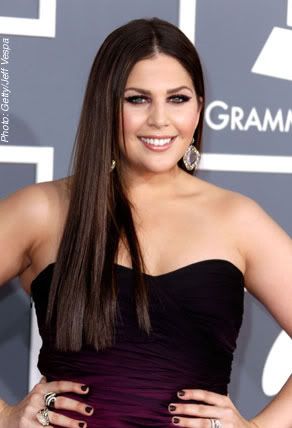 Man-icurist to the stars Tom Bachik created the soft look by finishing off the songstress's maroon manicure with Chanel's Velvet Matte top coat.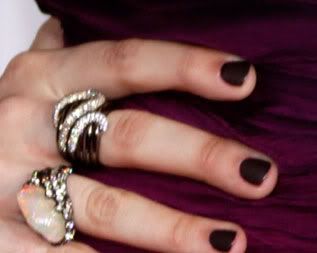 Last but not least was our favorite set of the evening. This artist not only took home six awards, but won our hearts with her stunning nail style. Adele's Christian Louboutin-inspired manicure forced us to Facebook them on the spot!
Mike Pocock, creative director at Ciaté, matched the artist's nails to her glittery red-soled shoes: nails were coated in multi-colored glitter and the underside was painted crimson.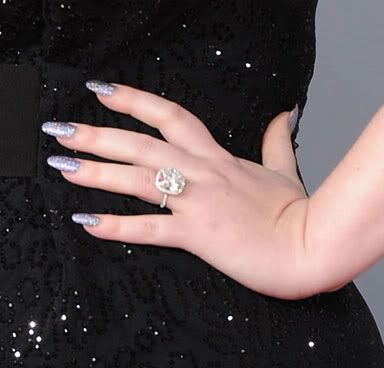 Adele is certainly NAILPRO's winner with her fabulously fashion-forward nails that became one of the most popular post-show beauty topics! —Stephanie Yaggy
Related Stories: Katy Perry Wears Custom Minx to 2011 VMAs | Grammy Manis | Katy Perry's Smurf Manicure Is Easy With Dashing Diva | Living her Teenage Dream | A Day in the Life of Kimmie Kyees: 2010 MTV Movie Awards | Neo Collection from Artistic Colour Gloss by Tom Bachik | Nail Art How to: Fall Nail Colors by Kimmie Kyees | Nail Art Products: Katy Perry's Minx Nails by Kimmie Kyees | Nail Art How to: Grammy Nails by Kimmie Kyees | Nail Art Products: Twilight's Nikki Reed's Minx Nails by Kimmie Kyees | Nail Art Products: Rihanna, Mariah Carey, Lady Gaga and more by Kimmie Kyees and Minx Nails | Nail Artist Kimmie Kyees' Blog
---
Post your nail art in our Users' Nail Art Galleries » and share, vote or link from your own nail art blog! Don't miss our digital edition for step-by-step nail art » and check our website's nail art archives » for nail art you might've missed!
---