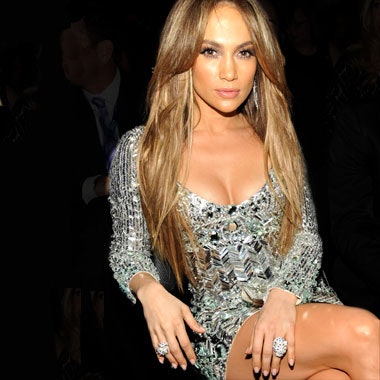 The stars weren't the only things shining at the 53rd Grammy Awards. From nude to noir—and every shade of pink-red in between—the tips and toes of the bedecked divas were nothing to be scoffed at.
Celebrity nail artist Tom Bachik spent the afternoon primping our favorite accessories (the nails, duh) on the likes of Jennifer Lopez, Leann Rimes and even too-cool-for-school Usher.
---
Post your nail art in our Users' Nail Art Galleries » and share, vote or link from your own nail art blog! Don't miss our  digital edition for step-by-step nail art » and check our website's nail art archives » for nail art you might've missed!
---
For the new Idol judge, Bachik applied two coats of his own new gel polish, Artistic Colour Gloss, in soft, sheer peach Seduction. He then dipped the tips in Dazzled, a sparkly silver glitter. For Lopez' toes, Bachik used shimmery gunmetal gray Metro, also from Artistic Colour Gloss.