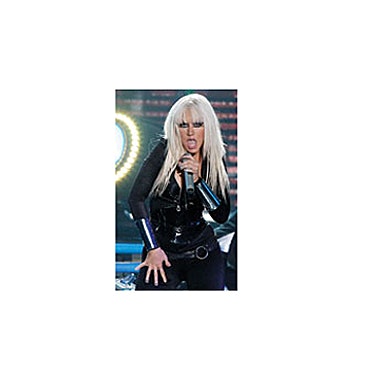 Divas of the music world are having "minxed" feelings regarding their nails: They're sporting Minx Nails! A-list manicurist Elle phoned in Silver Lightning Minx, which are mirror-like nail transfers, for Mariah Carey's cover shoot for December's Redbook magazine. Carey loved her Minx so much, in fact, that she requested them for her Nick Cannon-directed video, "I Stay in Love." Minx-master Naja Rickette, who created the nails for the video, divulges, "Mariah requested Minx for her video because there's a close-up scene showing her putting on eye makeup. And even though the video is shot in black-and-white, her nails really lit up the screen!"
Behind the scenes at Rihanna's "Rehab" video shoot, celeb tech Kimmie Kyees "Minxed" the singer's nails in Silver Lightning—the first time Rihanna ever wore the transfers.
"The idea behind the shoot was 'high fashion,'" Kyees reports. "And what goes better with designer clothes than designer nails?" The nails took on a chameleon effect, changing tones as the lighting morphed—one reason why Kyees prefers Minx transfers.
Related Stories: Nail Art How to: Fall Nail Colors by Kimmie Kyees • Nail Art Products: Katy Perry's Minx Nails by Kimmie Kyees • Nail Art How to: Grammy Nails by Kimmie Kyees • Nail Art Products: Twilight's Nikki Reed's Minx Nails by Kimmie Kyees • Nail Artist Kimmie Kyees' Blog
---
Post your nail art in our Users' Nail Art Galleries » and share, vote or link from your own nail art blog! Don't miss our digital edition for step-by-step nail art » and check our website's nail art archives » for nail art you might've missed!
---