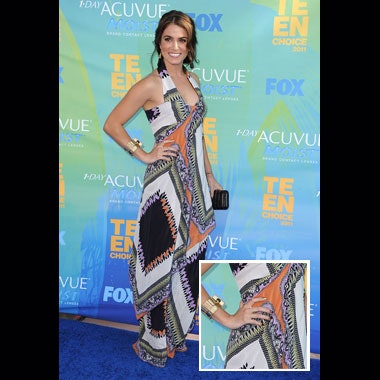 Celebrity relationships last about as long as a good manicure. Just when the tabloids stop obsessing over the new "it" couple, there's a major break-up and the relationships are thrust back into the spotlight. Actress Nikki Reed must be deeply in love. She took to the Teen Choice Awards red carpet with her nails decorated with images of her fiancé, Paul McDonald. The actress, best known for her role as Rosalie Hale in the Twilight films, revealed her latest manicure took a painstaking four hours to complete!
The loving portraiture was created with the help of Minx. Like Katy Perry and Beyoncé before her, Reed used custom-made Minx to express her love. Two days before the Awards show, Reed met with LA-based nail stylist Kimmie Kyees. Kyees provided nail services on a cover shoot for a magazine. While she was chatting with the actress, she mentioned that Minx could create any kind of custom look and immediately Nikki thought of her fiancé who couldn't be with her at the upcoming awards show.
Kyees then contacted Janice Jordan, co-founder of Minx, to ask her to create a rush order for her client. "I was still sending Janice photos on Saturday, and by Sunday morning [the designs] were already delivered to my door," Kyees says. "There were a few options to choose from, so Nikki chose the translucent photos of Paul, which I layered over a Golden Lightning Minx base. This made the overall look very subtle, and the gold base matched her Etro dress perfectly. But, if you looked closely, you could see the images of Paul on her nails. It was really very romantic and sweet." —Bekki Roth
Related Stories: Nail Art How to: Fall Nail Colors by Kimmie Kyees • Nail Art Products: Katy Perry's Minx Nails by Kimmie Kyees • Nail Art How to: Grammy Nails by Kimmie Kyees • Nail Art Products: Rihanna, Mariah Carey, Lady Gaga and more by Kimmie Kyees and Minx Nails • Nail Artist Kimmie Kyees' Blog
---
Post your nail art in our Users' Nail Art Galleries » and share, vote or link from your own nail art blog! Don't miss our digital edition for step-by-step nail art » and check our website's nail art archives » for nail art you might've missed!
---
Photo Credit: Getty Images