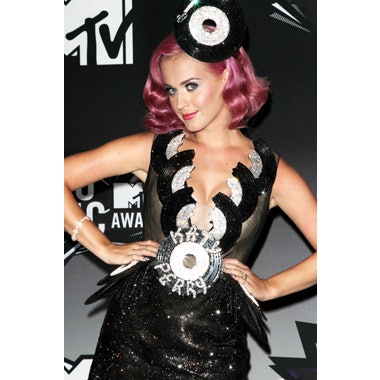 Katy Perry is making a habit of wearing custom designed Minx to the the VMAs. Last year Katy Perry's VMA nail design choice was both fun and meaningful when she wore custom "Russell Brand" Minx at her VMA appearance. Katy Perry donned custom Minx nails to the 2011 Video Music Awards on August 28 as she accepted the Video of the Year award for her powerful single, "Firework." If you look closely at Katy's Minx, you will notice that each nail showcases a tiny personalized image of a record at the nail bed. These miniature records symbolize each of the five hit singles from her "Teenage Dream" album that propelled Katy into music history.
Los Angeles celebrity nail stylist Kimmie Kyees designed the custom Minx, using a black and white-checkered background to contrast with the blue and pink-labeled records that had "Katy" and "Perry" written on them in script.
Katy Perry is the only woman in the history of Billboard to have five songs from the same album at No. 1 on the Hot 100. Michael Jackson is the only other artist with this achievement.

Images courtesy of Adam Orchon.
Related Stories: Nail Art How to: Fall Nail Colors by Kimmie Kyees • Nail Art How to: Grammy Nails by Kimmie Kyees • Nail Art Products: Twilight's Nikki Reed's Minx Nails by Kimmie Kyees • Nail Art Products: Rihanna, Mariah Carey, Lady Gaga and more by Kimmie Kyees and Minx Nails • Nail Artist Kimmie Kyees' Blog
---
Post your nail art in our Users' Nail Art Galleries » and share, vote or link from your own nail art blog! Don't miss our digital edition for step-by-step nail art » and check our website's nail art archives » for nail art you might've missed!
---