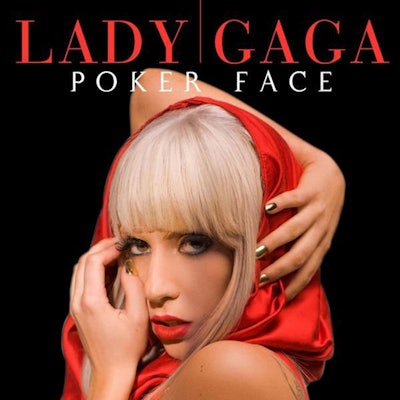 Friday, April 30, 2010 I'm on the set of Lady Gaga's video for her newest single Alejandro. This particular music video is super exciting because it's directed by big time photographer Steven Kline. This is his first time shooting a music video. I'm so excited to be a part of Steven's first music video and, of course, another Gaga masterpiece.
Gaga's team wants me to apply acrylics with a pointy free edge to give her a bit of length, but they also want the nails to look natural. I assure them that I can do exactly what they want. They also ask for a deep polish color; there are talks of dark, vampy reds, blacks and dark blues. When we decide that dark blue is best, I know just what color to suggest: Orly's Stars of Bombay. It's delicious! But I always give the team plenty of choices, so I polish each finger on my left hand a different shade of navy and show the gang. It's just as I thought—Gaga loves the Orly polish!
We quickly cut and shape the OPI Perfection Natural Tips on Gaga while she, Steve, the stylist and the "glam squad" have a creative meeting. I love these tips because they require so little blending! As for the acrylics, I recently received the OPI Clarité acrylic system. I'm so happy to use an odor-free acrylic system since we're in a packed trailer. Normal acrylics smell awful in that small of a space, and I usually fumigate the entire room.
Normally during a shoot, there are so many interruptions, but because Gaga and her team are discussing plans for the video, she sits still and I finish my work with very little movement or interruption—a blessing when I'm working on set! Gaga is completely content with the results, and her team loves the nails and thinks they look natural. They're also pleased that the nails don't take very long to apply. I let the rest of the glam squad have her full attention and polish the nails later. After a few more hours, the day is done, but the video still has yet to be wrapped. I'll see everyone back on set early tomorrow.
Continues on page 2
Related Stories: Nail Art How to: Fall Nail Colors by Kimmie Kyees • Nail Art Products: Katy Perry's Minx Nails by Kimmie Kyees • Nail Art How to: Grammy Nails by Kimmie Kyees • Nail Art Products: Twilight's Nikki Reed's Minx Nails by Kimmie Kyees • Nail Art Products: Rihanna, Mariah Carey, Lady Gaga and more by Kimmie Kyees and Minx Nails
---
Post your nail art in our Users' Nail Art Galleries » and share, vote or link from your own nail art blog! Don't miss our digital edition for step-by-step nail art » and check our website's nail art archives » for nail art you might've missed!
---