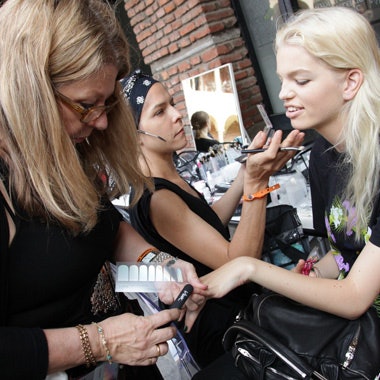 New York isn't the only metropolis to host a seasonal Fashion Week. Paris, London, Sydney, Milan and others also erect catwalks and invite fashionistas to showcase the newest fashions. Minx teams were there to apply the fashionable patterns to models' nails before sending them down the runway in couture.
In Paris, more than 30,000 Minx nails were used to create garments and accessories for the Charlie Le Mindu, while colorful Minx nails adorned with gems and polish were featured at the Vivienne Westwood show in the world's fashion capital. Gareth Pugh's models wore custom purple Minx with a spine design.
Swedish designer Elin Nystrom presented the Stylein show in Stockholm during Fashion Week there and worked with noted nail stylist Frida Selkirk to create custom Minx for the collection. Minimarket's models wore Minx nails at the line's shows in Stockholm and Copenhagen, Denmark.
Missoni models on the runway in Milan wore translucent interpretations of the collection's fabrics in blue, yellow and red over a MinxLusion base.
Minx also designed custom coverings for the Fred Butler, David Koma, Francesca Marotta, The Shenzhen: Dang Hao and ZAD shows during London Fashion Week, and Camilla Francs had Minx complement her designs at her Labyrinth by Camilla show during Sydney Fashion Festival.
Related: WATCH! December 2011: Behind the Scenes | Show Stopping Nails | Minx Team Sets Up at New Orleans Festival | Minx "Silver Lightning" | Katy Perry Wears Custom Minx to 2011 VMAs | To have and to hold from this day forward 'til doth my nails chip? | Minx and Match: Celebrities show off their Minx Manicures | Minx Professional For Naja from Minx