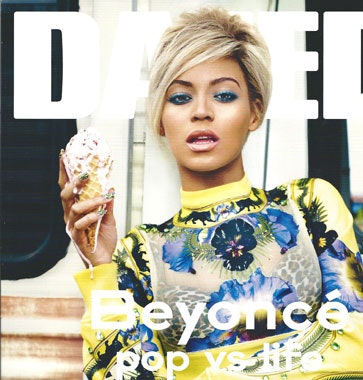 Minx continues to make the celebrity rounds. In May, we shared that celebrity nail technician Naja Rickette had the opportunity to give singer Ke$ha a fabulous Art Deco Minx manicure. And now fellow recording artist Beyoncé Knowles has a Minx manicure of her own to flaunt.
Dazed & Confused magazine featured Beyoncé on the July 2011 cover sporting Green Cheetah Minx. Lisa Logan, celebrity nail stylist for the photo shoot, revealed that the theme of the shoot was "high-end meets trailer park." Logan explained that when the stylists saw the Green Cheetah Minx "they thought it was genius. They wanted to have fun with the shoot, and play off the bright colors Beyoncé would be wearing, and they were thrilled that they wouldn't even have to change the Minx as it went with everything."
Although Ke$ha was sporting the LA LA Land design weeks ago, the Minx Professional for Naja collection that design is a part of was just released July 29. The latest in a series of collaborations celebrating leading nail stylists around the world, the Minx Professional for Naja line is inspired by the men Rickette has loved and the places they've been. "The Art Deco structural lines, shapes and geometric tidbits are a metaphor for the twists and turns that happen on the road of life," Rickette explained. "The transparent lace designs are an artist's playground, which can be worn on their own, but that also invite the nail stylist to layer, embellish and basically let loose with their creative juices," Rickette says.
"Being able to give Naja and other incredibly talented nail stylists the opportunity to share their artistry and vision with others is both fulfilling and a true honor," says Minx co-founder Dawn Lynch-Goodwin. "We want Minx to give nail stylists something to have fun with, to make money with, and to put interest and intrigue back into their craft again."
—Bekki Roth
Photos Courtesy of the Manufacturer