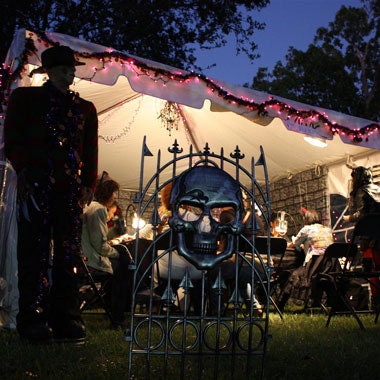 Halloween brought spooky delights to New Orleans for the Voodoo Music Festival, and the Minx team was there to make the party-goers' fingers stand out.
The three-day music and arts festival featured more than 100 rock, R&B and jazz bands from around the world. The Minx team set up in the artist compound backstage and applied the nail covers to bands and artists to match their costumes and stagewear.
New Orleans-based Minxers Chelette Smith and Amber Muse joined Minx co-founder Janice Jordan at the event, bringing nail fashion to the musicians on the scene.  Both nail stylists had completed Advanced Level 1 Minx training at the Premiere Orlando earlier this year and had previously lent their Minx talents to the Oxygen Network for the Bad Girls Club season 7 filming in New Orleans last spring.
"Our favorite quote of the day came from one of the members of the Japanese cult fave band Peelander Zee," says Jordon. "When we asked her what instrument she played she said, 'I don't really play an instrument… I'm  mostly just screaming!'"
Minx used professional patterns ranging from currently available designs to special Halloween Minx to a few delightful custom coatings that were brewed up specifically for the event.
[Image credit: Julie Cox]
Related: WATCH! December 2011: Behind the Scenes | Show Stopping Nails | Minx Around the World | Minx "Silver Lightning" | Katy Perry Wears Custom Minx to 2011 VMAs | To have and to hold from this day forward 'til doth my nails chip? | Minx and Match: Celebrities show off their Minx Manicures | Minx Professional For Naja from Minx