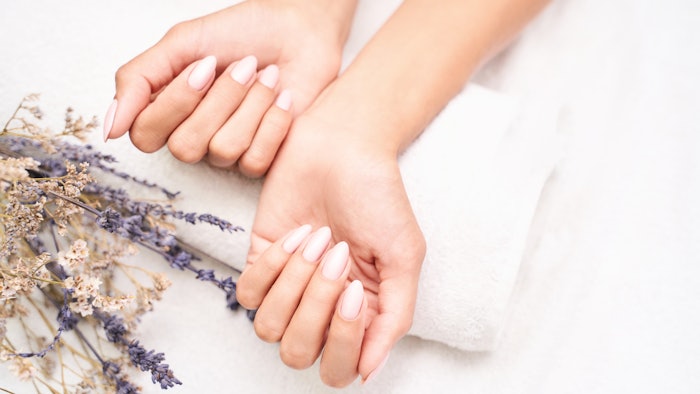 Never underestimate the power of good nail prep at the beginning of an appointment. Not sure where to start or what steps are necessary? Sarah Thompson, U.S. and Canada head educator, at The GelBottle Inc., shares her top tips and tricks.
"For me, there is no 'quick' when it comes to nail prep," says Thompson. "Prep is one of the most important steps in a manicure and probably where I spend the majority of my time during a clients appt."
5 Must-Try Tips for Nail Prep
Gently push back the cuticle with a cuticle pusher.
Use a straight-bladed manicure tool or small nail paddle to remove dead skin from the nail plate and sidewalls. If you are e-file trained, you can use a flame bit to help do this.
Use a fine grit file to shape the nail and then a buffer to very lightly scuff the nail to remove any natural oils and remaining dead skin on the nail plate.
Use cuticle nippers or scissors to trim away any dead tissue using caution not to get too close to the eponychium.
Use acetone or 90/99% Isopropyl Alcohol on a lint-free wipe to remove any dust/debris and natural oils to dehydrate the nail plate. Be sure to pay special attention to sidewalls and cuticle areas.
Healthy Nails: The Trend That Never Ends
With more than 20 years of experience starting in her home-based studio, Sarah Thompson is now the head educator for The GelBottle U.S. & Canada. She trains nail technicians in both countries all while running her home-based studio. At the upcoming Nailpro Nail Show, her class "Healthy Nails: The Trend That Never Ends" will focus on understand the significance of keeping your clients' nails healthy and the continuing of your education. Trends aside, all manicures should start with proper, thorough prep and recognizing the importance of customizing your client's treatment experience. Class attendees will learn why prep is so important, how to ensure they are giving long-lasting, chip-free manicures and understand the importance of education.
Register at nailproshow.com so you do not miss out on her session or any of our other amazing classes! Plus, do not forget about our live competitions, Nailpro Master Challenge where you can show off your skills. (Registration for the Master Challenge is online only; there will be no on-site registrations.)