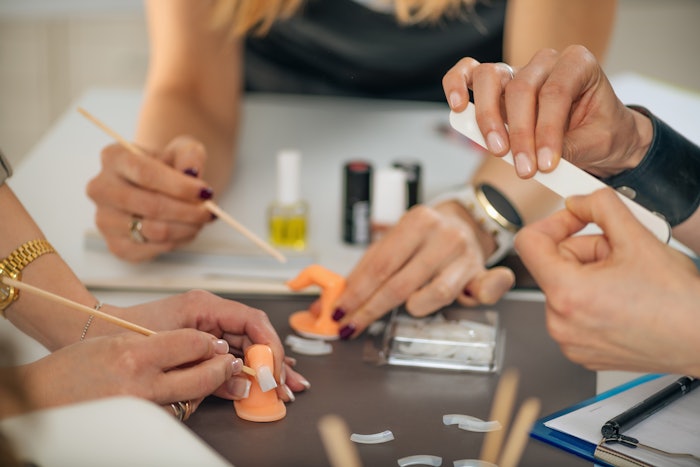 The Nailpro Nail Show is this weekend! 
Held at the SAFE Credit Union Convention Center in Sacramento, CA on August 20-21, 2023, the Nailpro Nail Show covers an extensive, in-depth range of education to provide nail professionals the knowledge they need. You will learn how to build your business (from opening a nail salon to managing your clientele and marketing yourself), improve on the foundation of your skills, stock up on products and discover new techniques that your clients will love, which will allow you to expand your service offerings. Plus meet and network with fellow nail industry professionals and reconnect with old ones at this event that welcomes and celebrates our diverse community of nail professionals.
While at the event, you can attend the following six free classes to help boost your nail knowledge.
Sunday, August 20 
10-11:30 AM PST in Room 14: Experience How Bio Sculpture Can Elevate and Revitalize Your Nail Treatments
Hosted by Melanie Coppolella, Head of Education at Bio Sculpture USA, discover the secrets of BIOGEL & EVO 4-layer gel and Free-form tip applications in this comprehensive class. Master the techniques effortlessly and unleash your creativity with stunning nail designs. Elevate your expertise in Bio Sculpture and level up your nail game. Don't miss out on this opportunity to enhance your skills and achieve flawless results. 
10-11:30 AM PST in Room 16: It's All About the Toenail
Hosted by Vicki Malo, President at North American School of Podology/KG Cosmetics, learn about different nail pathologies affecting the toenails and potential solutions for these issues. From fungus to thick toenails, this class has it all. This class includes a hands-on approach on how to help your clients who have painful extremely curved nails, lifted nails, thick nails and/or other issues related to toenails. You will learn proper techniques on how to reduce a nail, cut a nail and toenail correction techniques, as well as learn which are the best implements and bits for best practices according to your clients' needs. In this 90-minute class, learn how to give your clients the toenail care they need while increasing your revenue stream.
1-2:30 PM PST in Room 14: Grow Stronger Longer Nails, Save Time & Maximize Profits
Hosted by Lisa Tran, CEO at La Par, learn how to grow stronger, longer nails with La Par products. La Par isn't the typical nail product. They are a non-toxic brand that's spreading awareness of healthier alternatives in all nail services and techniques. Their Gel Builder in a Bottle is easily applicable and helps nails from breaking or chipping for up to three or four weeks. Specially formulated 4-in-1 Base for our Gel X Nail Extensions consists of fiber, which helps structure the nails easily with a strong adhesive without compromising the health of the nail.
1-2:30 PM PST in Room 12: Nail Your Pricing Strategies 
Hosted by Anastasiia Rozdobutko, Academy Chicago Educator at The GelBottle Inc., learn how to properly set your salon prices and how to maximize your profits over time. 
Monday, August 21
10-11:30 AM PST in Room 12: Perfect Prep
Hosted by Sarah Thompson, Head Educator at The GelBottle Inc., learn how to prep to ensure longevity to your manicures. Thompson will go over nail anatomy and how to perfectly prep your nails!
1-2:30 PM PST in Room 16: Pedicuring Elderly Clients
Hosted by Vicki Malo, President at North American School of Podology/KG Cosmetics, pedicuring is risky business; more so today than ever before. With the changing needs of our customers, it is imperative technicians stay updated and have an in depth knowledge on the clients with whom they are working. As the number of seniors, geriatrics, Dementia and Alzheimer clients requiring foot care services increases, pedicures are becoming a risky business. This clientele is not only vulnerable to abrasions and infections, but may not have the capacity to understand what you are doing and why you are doing it. Consequently, this can lead to serious conditions including cuts, abrasions and misunderstandings. Our comprehensive seminar outlines the three "P's"; the critical Precautions to take, the best Practices to perform during pedicure services and the ideal Products to use to achieve a safe pedicure. This seminar will give detailed information and suggestions on how to approach and service elderly and geriatric clients.
Attend these classes and more at the Nailpro Nail Show! See you there!