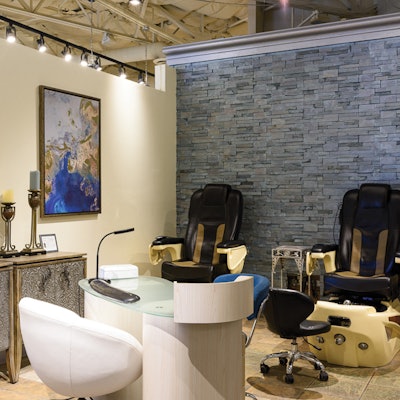 Owner April Martinez welcomes Nailpro to her luxury, full service salon.
Details
Owner: April Martinez
Location: Scottsdale, Arizona
Est: 2016
Staff: 25 professionals that are a mix of renter and commission-based.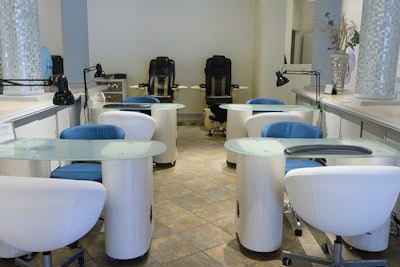 The Look: The Hills Salon & Spa is a one-stop shop where our clients can experience a day of beauty indulgence or get ready for a big night out. Our menu offers head-to-toe services, including hair, nail, makeup and spa services, and there are some great products available in our boutique. Since our location is in a very affluent neighborhood in North Scottsdale, Arizona, we wanted to offer our patrons an upscale environment. We designed The Hills to be a glamorous beauty destination with beautiful chandeliers and an electric blue fireplace mounted on the wall.
RELATED: Savvy Salon – Southern Swings Nail Bar & Spa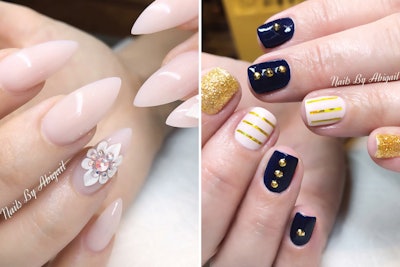 Signature Services: Our prices vary considerably due to the extensive service menu: Basic manicures start at $28, but we also offer a microblading service that typically runs about $500. Our clients' favorite nail service is the gel manicure, which costs $40 and includes a warm water soak, nail and cuticle care, and a relaxing massage followed by gel polish application.
The Goods: For nails we use OPI polish and GelColor, CND Vinylux and Shellac, and Young Nails Caption and Mani-Q. Our boutique offers a variety of beauty products for hair, skin and nails. We like to offer our clients products that we believe deliver dramatic results when it comes to problematic skin, such as intense moisture treatments and anti-aging serums.
RELATED: Savvy Salon – Aqua Skin and Nail Care, Santa Barbara
Social Life: We use our social media channels to engage with returning and potential clients alike. Instagram has definitely given us the best results and reach for our audience. Our followers love when we post before-and-after photos. Whenever we hold or attend events, we like to share the experience with our followers, and they respond really well to those posts, too.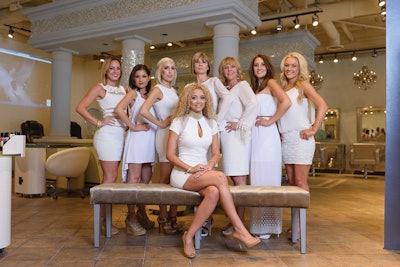 Up close with the owner April Martinez
What was your first job in the nail industry?
I started at the front desk, and then I became the salon coordinator until finally receiving my esthetician license, and then I started to see clients.
What inspires you?
Helping women feel beautiful! And assisting my staff in achieving their professional goals gives me so much daily inspiration.
What was your childhood ambition?
I wanted to be a psychologist and write. But as things worked out, I feel there is a level of that in what I do every day.
What was the biggest mistake you made when opening The Hills Salon & Spa?
I overspent on marketing.
What's your best advice for new salon owners?
Recruit, recruit and recruit. It's all about the talented team you build!
Visit The Hills Salon & Spa:
On their website.
On Facebook.
On Twitter.
On Instagram.
[Images: Courtesy of Michael Franco, Mark Susan and Brad Olson]