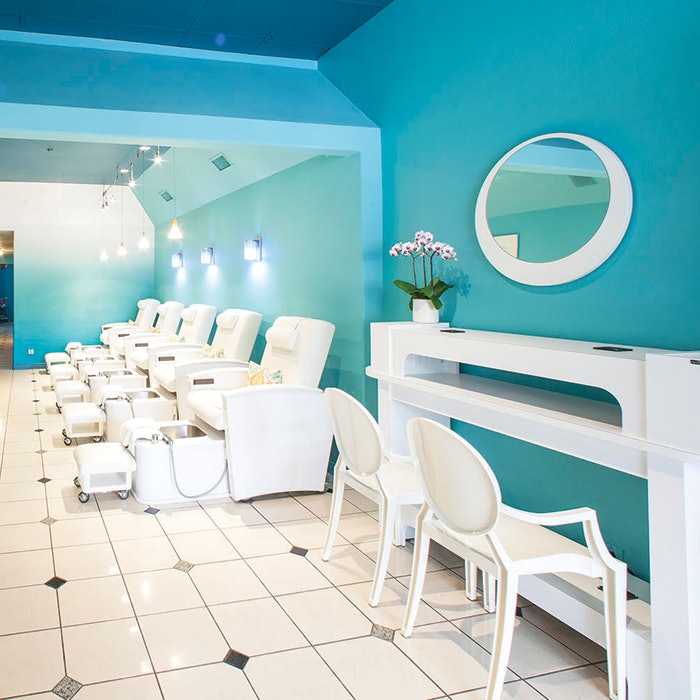 Distinction
Aqua Skin and Nail Care is more of a self-care destination than merely a nail salon. Of course we provide our clients with amazing nail care, but we also aim to give them something more unique and valuable: time to focus on their own well-being and beauty. A visit to the salon is about the experience, not just the services.
The Look
Our decor was inspired by our name, Aqua, as well as our commitment to health. We want our clients to feel as though they're floating on water as soon as they enter the salon. The main color is turquoise and the furniture is all neutral tones. We added a pop of color to our waxing room with an ombré pink wall. To enhance the soothing ambiance, relaxing music plays throughout the salon, and we use an essential oil diffuser that releases a balancing blend of rosewood, clary sage and lavender to create a calming spa atmosphere.
RELATED: Savvy Salon – Bellacquer Nail Studio
Clientele
Aqua Skin and Nail Care is located in an upscale residential neighborhood where many working professionals and retirees live. Our customers tend to be between the ages of 40 and 70 and have a focus on self-care. Clients spend an average of $63 per service, and most salon visits last around 45 minutes. Although the majority of our clients are female, men make up roughly 10 percent of our clientele.
Praise
The best compliment we've received was being recognized by our community of business owners with the Women's Economic Ventures (WEV) Business of the Year award. We won this award because of our salon's wellness-centered culture and the support we give to our techs to help them build their careers through continued professional development, including skill certification training, courses in financial literacy and in-house mentoring. We're also the official manicurists for Santa Barbara Life & Style Magazine. Being able to see our work in the magazine gives our team so much pride.
RELATED: Savvy Salon – Waterless Medi-Pedi & Nail Spa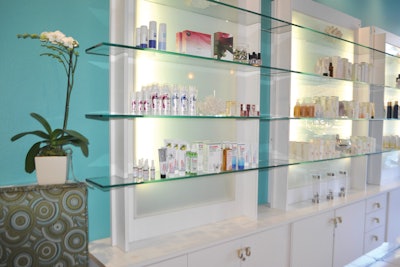 The Goods
We've established a 3-free ingredient policy to ensure the health of both our techs and clients. Therefore, we offer our clients OPI and Essie Gel Couture polishes. Our retail area is also filled with a variety of health-conscious brands, including Jurlique, Jane Iredale and South Seas, all of which are free of parabens, mineral oils and sodium lauryl sulfate, and are committed to being cruelty-free. We're also very proud to have our own line of retail products, including our organic sugar scrub.
In-Demand Service
Our most popular service is the Aqua Signature Pedicure. All of our foot care services include nail and cuticle care, callus buffing, foot massage and a polish or gel application, but this pedicure also includes an herbal bath and our own fresh and fabulous organic sugar scrub.
Social Media
We're new to social media, but have found that Instagram is the best for promoting our business and sharing our culture through beautiful photos. Facebook allows us to communicate how we can be of service to our community inside and outside of the salon. Customers are able to see our posts, and when they come into the salon, they comment on how much they appreciate everything we do for the community.
Advice
Figure out what kind of culture you want your salon to focus on and build both a business and team that support that culture.