Owner Brandi Holstead invites NAILPRO to experience her charming New Orleans salon.
Details:
Owner Brandi Holstead
LOCATION New Orleans, LA
Est. 2018
Staff 10 professionals that are a mix of booth renters and commission-based employees. We also have two independent businesses within the salon: Nola Tan offers airbrush-tanning services and B Style provides eyebrow, hair and makeup services.
The Look: At Southern Swings Nail Bar & Spa, we really wanted to showcase our Southern roots and make our salon stand out. Everyone in the South loves to be outside, so three of our eight pedicure stations are on the front porch—clients can receive pedicures on porch swings! Since we're located on Magazine Street, a touristy area of New Orleans, people come from all over just to swing with us. Southern Swings Nail Bar was designed with a combination of farmhouse decor and modern eclectic inspiration. Our Whiskey Room, which is dedicated to men's haircuts complete with a complimentary glass of whiskey, is decorated in dark burgundy and features a cowhide rug and leather furniture.
Signature Services: Clients spend an average of $36 on services. I wanted to make sure that we were affordable to everyone in the city. Our most popular service is a tie between the Sugar Scrub Pedicure and the Chocolate Mud Pedicure. The Sugar Scrub Pedicure includes nail and cuticle care, an exfoliating scrub and a warm towel wrap and is priced at $40. Our Chocolate Mud Pedicure includes nail and cuticle care with a chocolate sugar scrub, chocolate mud mask and warm towel wrap; this service is $50. Our clients love the Chocolate Mud Pedicure because it smells delicious and the cocoa leaves the skin feeling deeply hydrated.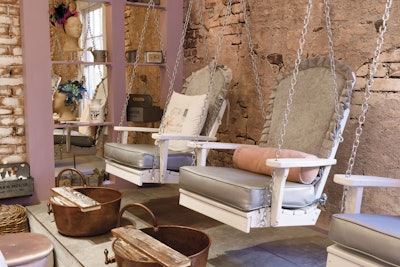 The Goods: We use Keyano products for pedicure services, and we offer CND, OPI and DND for polish options. Farmhouse Fresh products do really well in our retail space because they fit so well with the salon's rustic feel. We have a really unique retail boutique, as 90 percent of our retail items are from Etsy. I love supporting small businesses and empowering other women, so buying small and local is the best way I can show my support. Every time I check someone out I smile because I know I'm supporting a family.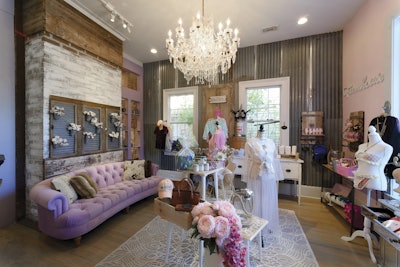 Social Life: I use social media every day, all day! Eighty percent of my marketing budget goes toward our social media channels. Initially, I thought that Facebook would be where the majority of my business would come from, but after speaking with clients I realized that Instagram is our best social media channel, accounting for about 60 percent of our business so far.
Up Close with Owner Brandi Holstead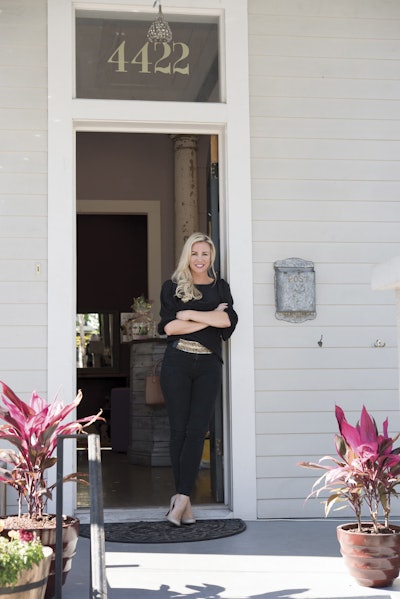 What was your first job in the nail industry?
In 2016, I took a chance and opened my first nail salon. I then sold that salon and moved back to the South where I opened another. Since I've started owning nail salons I have learned so much about the industry, and I haven't looked back. I love everything about the nail industry and hope to start a franchise in the near future.
What inspires you?
Seeing people truly enjoying themselves during their time at the salon. Every time I see people taking pictures and posting them on social media, it inspires me to keep following my passion. Their happiness at the salon pushes and motivates me to make my nail salon the best it can be.
What was the biggest mistake you made when opening Southern Swings Nail Bar?
I've made so many! My biggest mistake was not having enough staff when first opening the salon. I believe it's better to lose money on services than to take on a lot of clients and be understaffed.
What did you most recently splurge on for your salon?
I've spent thousands of dollars on farmhouse decor at Hobby Lobby. That store gets me every time!
What's your best advice for new salon owners?
Make sure you have a very detailed business plan, and talk to other nail salon owners—it can help build a successful business.
I can't discuss Southern Swings Nail Bar & Spa without …
Talking about the porch swings; they're just so unique!
Visit Southern Swings Nail Bar & Spa:

On their Website
On Facebook
On Instagram
This article was originally posted in the July 2018 issue of NAILPRO.
[Images courtesy of Romney Caruso Photography]