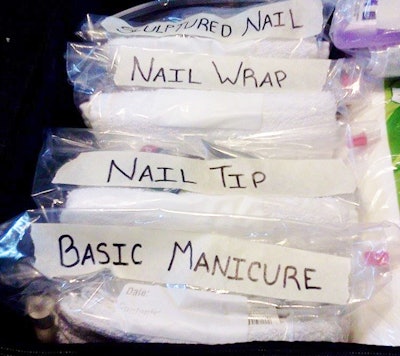 Follow Amie Pollard, nail school student and recipient of the Beauty Changes Lives|CND|Tippi Hedren Scholarship, through her days of school!
October 15, 2014
Lets get packin'!
That's right, this week we started doing "practice packing." We had to have everything that we required for mock boards with us this week so that we could get everything packed up for our test. We do this to best prepare ourselves so that we can move as quickly and as efficiently as possible during testing. In between each segment of the test we have two minutes to sanitize our stations and set up for the next segment. Now, two minutes might seem like plenty of time to just pull a bag from your suitcase and set up the contents, but it's not. When you are feeling as anxious and as nervous as you do you need all the time you can get.
To be most efficient, we set our bags up in such a way that we do as few steps as possible. By wrapping our supplies up inside our towels, all we have to do is unroll and fold. We put our supplies in individual bags with labels and line them up in order so that we can just grab and go when it comes test time. I'm sure most schools do it this way, but just in case I wanted to share how we do it! What's most important over anything is to remember that sanitation is key. If you mess up your sanitation right off the bat, they are going to watch you like a hawk for the rest of your exam, which in turn is going to make you more nervous. I recommend working on your set up and breakdown speeds, and be sure to practice whatever your state requires you to do on your test.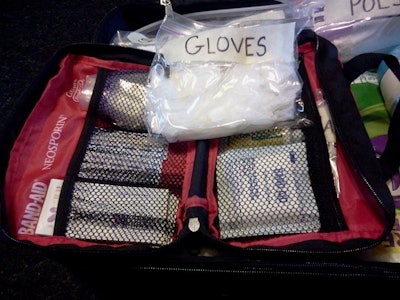 To make life easier for myself, I did my packing before class so that I would have more time to work on and practice the things I felt I needed the most work on. So after going through our cases and making sure everyone was packed correctly, that's precisely what we did; practice our skills for state boards. For me, in all honesty, I had to practice my nail tip skills. Let me back up for a second and tell you the things we have to do for our state board practical. We have to do a basic manicure on all 5 fingers. We then do a nail tip, which we attach and blend into the "natural" nail (fake nail glued to our practice hands). Then we do our nail wrap, followed by our sculptured nail and red polish to all 5 fingers. So, the one skill I hadn't really practiced was blending a tip because we had focused so much on the sculptured nails, which do not require a tip.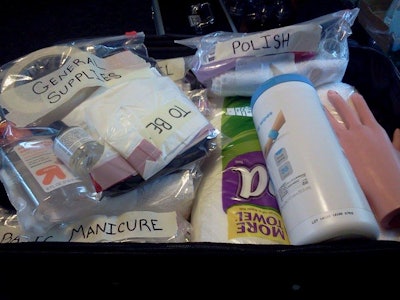 We did not have any tests this week because the only test left is our final, which is coming next week. We're almost done and there are barely any requirements left! Can't believe it! See you next week! -Amie
See all The Nail School Diaries
[Images: Amie Pollard]