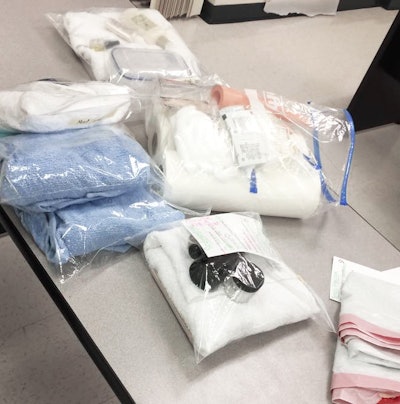 Follow Amie Pollard, nail school student and recipient of the Beauty Changes Lives|CND|Tippi Hedren Scholarship, through her days of school!
October 23, 2014
Wow! I can't believe that this is our second to last week of school. Next week we will be graduating and moving on to the next phase in our nail tech careers!
This week we had both of our final exams; written and practical. We call our practical exam our "mock board" because we run through everything just like it will be done when we go to state boards. Our teacher reads from the  exact "script" that the examiners will read, and we go through each section of the test in the same order. Like I laid out for you last week, there are 5 sections during the test, plus you are watched for professionalism, sanitation, and client protection. When we start we are given 10 minutes to set up our basic supplies that we will use throughout the test, and the supplies for our basic manicure (with no polish). Between each section we have 2 minutes to set up, and 20 minutes to actually do each section with the exception of polishing in which we only have 10 minutes.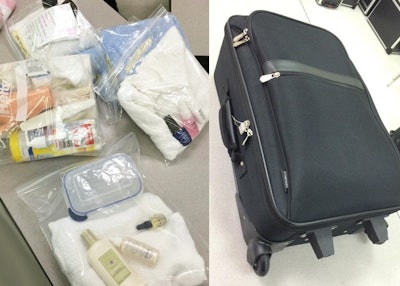 Tuesday when we arrived to school we went right into doing our tests. Even though we had been doing this for 4 months, and we all KNEW what we were doing, we were all so nervous. It's incredible what pressure can do to you even when you are sure of yourself. When you are setting up and trying to be as sanitary as humanly possible, you start to second-guess yourself. And may I also add, I don't think I have ever used so much hand sanitizer in my life. If you so much as touch your shirt, you better sanitize your hands. Before you get into your case for supplies, sanitize your hands. AFTER you get out of your case, sanitize your hands. If you put something into your trash bag, sanitize your hands. If you get a free second just because you can, sanitize your hands! Sanitation is seriously the hugest thing to remember. If I could choose one piece of advice to give to anyone preparing for state boards it would be to practice your skills so you don't have to question whether or not you can do something, make it second nature to you. Do this so that you can focus on being sanitary.
So I'm sure you're all wondering how I did, right? Well, it took us about 2 and a half hours to go through the entire mock board, and as always, my teacher gave us our grades right after the test, and I got a 94! I was expecting it to be much worse because I really felt like my nerves were getting to me!
After our test we repacked our bags and our teacher went over certain things that she wanted us to work on so that we could improve our scores even more. I should mention that we repacked because we do 2 mock boards, however, the first one is the one that counts. We do 2 run-throughs so that we have at least 2 practices under our belts.
On Wednesday we did our second mock board, like I mentioned, and then we had our final written exam. A goal that I set for myself in the beginning was to get 100 on all of my written tests. And guess what, I DID IT! I thought I was going to cry! I can't believe it! I achieved my goal!!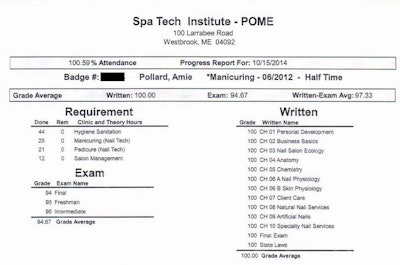 Thursday night was our last night in the clinic and it was also our last "create the event" where we could schedule friends and family for services. My mom came in for a spa mani and a friend of mine came in for a spa pedi! All of my requirements are done, so these were extras for me!
I can't believe next week is graduation! See you then! -Amie
See all The Nail School Diaries
[Images: Amie Pollard]