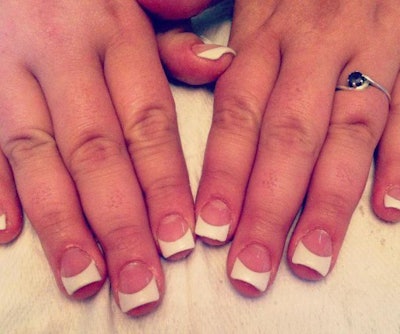 Follow Amie Pollard, nail school student and recipient of the Beauty Changes Lives|CND|Tippi Hedren Scholarship, through her days of school!
October 10, 2014
Hey everyone. So last time I told you we started reading through our state laws and rules packets. This week, we finished reading through the second packet. I can't even explain the amount of information we had to take in in such a short amount of time. Like I mentioned in my previous post, we had to remember things from different modalities, so that made this lesson and test a bit more difficult. Luckily, most of the items that are found in the laws and rules apply to all modalities. For example, the laws about licenses. In Maine, every license for every modality expires on October 31st. Late fees and things like that are also the same. Our study guide for the laws and rules was due that day, so after reading through the second packet we went through the packets together to ensure that we had the correct answers to study for our test Wednesday. We took our test on Wednesday, and I got 100! That meant that I only had 1 written test left; our final exam. I felt a mix of excitement and nervousness because (I'm not sure if I ever mentioned this, but when I first started school we had to write a list of goals for ourselves. My goal was to get 100 on all of my written tests!)
Around this time is when we started to discuss our mock board test. On the day that we received our state laws and rules packets, we also received a list of items that we would need for our test. As a girl who loves shopping for nail supplies I couldn't quite contain myself! I couldn't wait to go shopping that weekend! There were certain things we had to have for our test that were not provided in our kit (we were told we would have to do this shopping when we started). We needed things like towels, extra nail brushes and buffers, etc. Everything that I bought for my test cost me about $50, so not too bad overall!
Because we have finished all of our practical lessons, we are just continuing to work on our requirements for graduation. I had also been practicing my acrylics at home on family and friends. I would really like to specialize in acrylics and nail art once I have perfected my skills, because they are the two areas I have the biggest passion for. I have also started to look at into different salons that are hiring to find a place to work.
Something very important to consider when looking for a salon to work in is location. You should not start working in a salon near an area that you know you will not eventually want to live in or work in. If you build a clientele and then leave, you could lose half or more of them. This is because some clients simply do not like change. So, be sure to find a salon in an area that you know you can commit to.
I will talk more about state boards next week! See you then. -Amie
See all The Nail School Diaries
[Image: Amie Pollard]