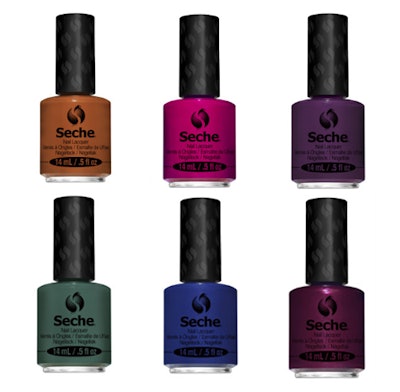 Get your clients excited for the new season by offering a wide range of pretty lacquers that apply with ease and a professional finish. We've gathered together  our favorite collections for this fall to show you what you cannot miss trying. See all eight.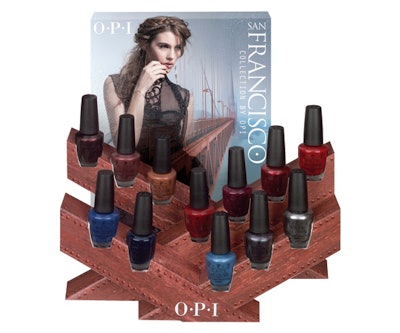 Make clients feel as if they are on vacation breathing in the ocean air, while applying polishes from the OPI San Francisco collection. The complete set has dark autumn hues all with clever names based on the tourist city. Click here to see the full description of each color. OPI also has a corresponding line gel polish with the same shades. 
[Image: OPI]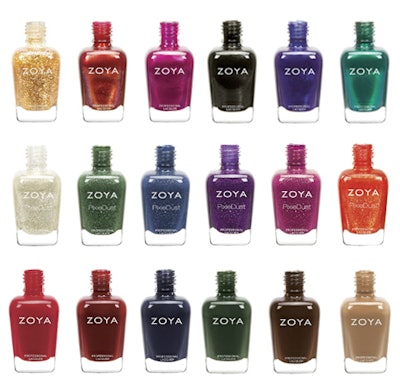 Zoya polishes apply smooth and butter-like, and the best part is that this fall, the brand has eighteen colors perfect for the season. Between the Satins (glitters/shimmers), Pixiedust (sandy textured), and Cashmeres (crèmes) sets, there's sure to be something every client can fall in love with in this assortment. Click here to see more details on the lineup.
[Image: Zoya]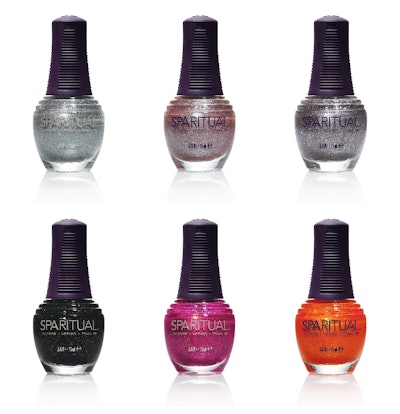 SpaRitual has several unique shades that make us dance for joy: Charleston (silver), Ballet (champagne), ChaChaCha (pewter), Jazz (onyx), Flamenco (dark rose), and Tango (shimmery orange). SpaRitual colors are all vegan and contain bamboo, which keeps nails thicker and stronger.
[Image: SpaRitual]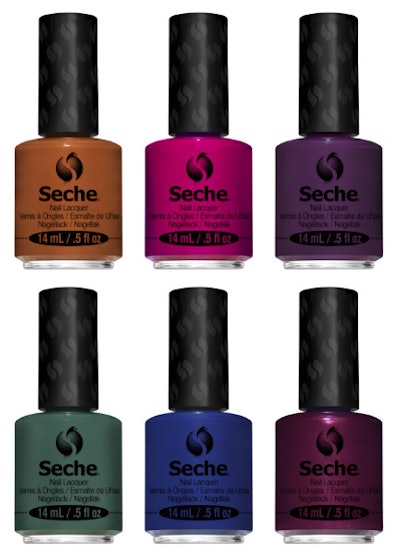 The brand known for its fast-drying top coat has again blown us away with their polishes that can be worn with just one coat. A single layer of Silly but Sensible (pumpkin orange), Happy, As Is (dark rosy pink), Clever & Confident (plum), Versatile (emerald), Wonderfully Witty (navy), and Intuition (velvet red) appear jelly-like and perfectly opaque.
[Image: Seche]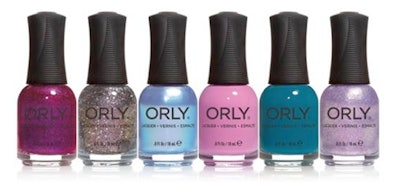 Orly breaks the mold with a fall collection that strays from the dark hues we are accustomed to. The whole 3-free set is geared towards the digital age with pixel-like glitters for the modern era. The Surreal line consists of Angel Rain (soft blue metallic), Pink Waterfall (baby pink), Pixie Powder (lavender glitter), Purple Poodle (magenta jelly with blue and purple glitters), Teal Unreal (teal), and Digital Glitter (large purple glitter clear coat).
[Image: Orly International]
Essie dresses up digits with their fall lacquers: Cashmere Bathrobe (metallic grey), For the Twill of It (iridescent purple/green), The Lace Is On (raspberry), Twin Sweater Set (fall red), Vested Interest (muted mint), and After School Boy Blazer (navy). Vested Interest is a perfect way to wear jade in the autumn.
[Image: Essie]
Morgan Taylor is highlighting many of their darker hues for the season. The whole group includes: Take the Lead (brick red), Seal the Deal (shimmery red), Well Spent (violet), Most Wanted (dark plum), All the Right Moves (black with purple glitter), Met My Match (lavender crème), Sweater Weather (dusty grey), Time to Shine (black and silver glitter), On the Fringe (dark mauve), I Make the Money Honey (black), Under the Stars (galaxy-like navy with glitter), and Denim DuJour (navy). If you haven't given the new brand a try, now is the time. Morgan Taylor has been getting rave reviews from nail techs and has already been used all over runways.
[Image: Morgan Taylor Lacquer]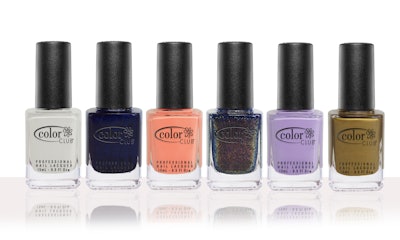 To celebrate the many different city lifestyles of women across the country, Color Club has introduced the Girl About Town collection. Each of the six shades represents a different locale: the Pearl District of Portland (burnished gold), Williamsburg of NYC (shimmery blueberry), The Uptown of Oakland (purple filled with rose-gold and bronze flakes), East Austin (smooth coral), Silver Lake of Los Angeles (white grey), and Wicker Park of Chicago (lavender).
[Image: Color Club/Cosmetic Group]