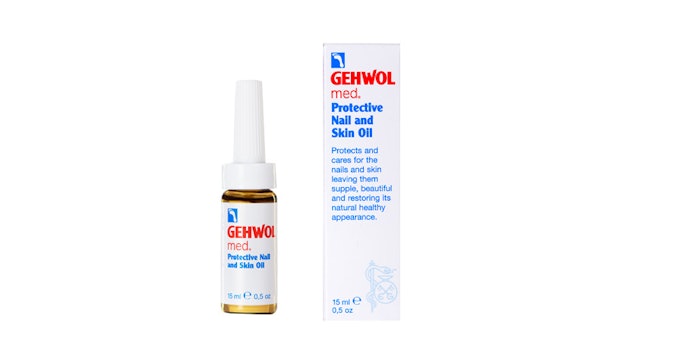 Courtesy of GEHWOL med
GEHWOL has four different treatment oils, specifically for the nails and feet. 
The Protective Nail and Skin Oil is one of their latest releases. This oil was formulated for the treatment and prevention of fungus on the nails and surrounding skin. It helps bring back the elasticity of the nails, strengthens weakened nails and can be used daily.
"If the skin around the nails is dry and the nails are cracked and broken, GEHWOL Protective Nail and Skin Oil is ideal. Besides protecting against fungal infections, it offers a rich treatment of wheat germ oil, panthenol, and Bisabolol to care for the skin and the nails," shares Kelly Diaz, director of business development. "Brittle and fragile nails regain elasticity and beauty and receive a natural silky sheen. The liquid state of GEHWOL Protective Nail and Skin Oil penetrates particularly easily even in areas like the nail fold and soaks into the skin easily."
GEHWOL is one of the Master Challenge sponsors at the Nailpro Nail Show 2022, taking place from Aug. 20-22, 2022 at the San Jose McEnery Convention Center in San Jose, California.
Register today for the Master Challenge to discover which of their product(s) will be featured in the competition kits. Not quite ready to compete yet? Attend the Nailpro Show, and check out GEHWOL's booth on the show floor.