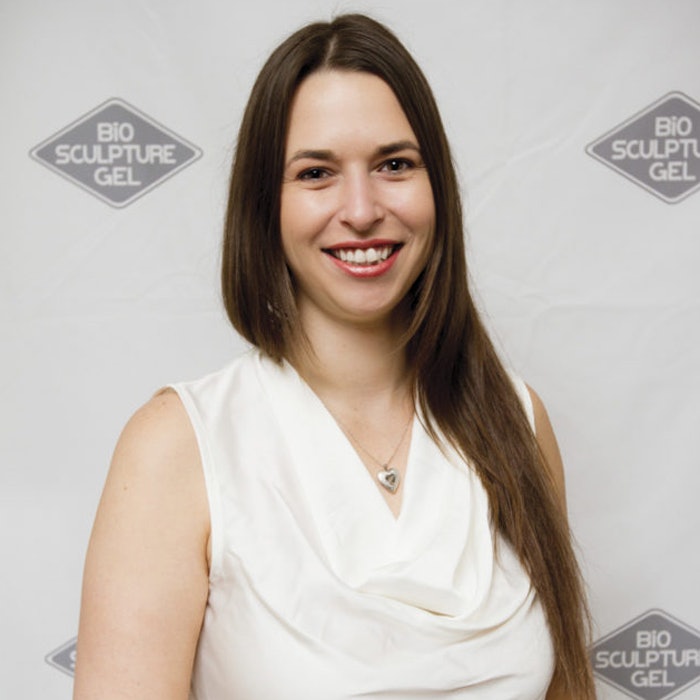 The head of education for Bio Sculpture Gel USA describes her perfect day, shares her childhood ambition and reveals her guilty pleasure.
My first job in the industry was… When I was 13; I sat in on my mother's training classes helping her out with orders and practicing doing nails.
What was your childhood ambition? Ever since I was a little girl, I wanted to be a vet, but I went into business and manicuring because there was a five-year wait list to get into vet school.
My proudest accomplishment is… Never giving up. I have faced many challenges in my life, but one thing that I have learned from all of it is when you don't give up, you cannot fail!
What is your favorite type of music? I love all music, but my Sunday morning pick-me-up while cleaning the house is country.
My favorite movie is… "The Gods Must Be Crazy" and "The Gods Must Be Crazy 2."
Describe your perfect day. Waking up on a beach somewhere, going for a stroll down by the water, reading a good book and having a sunset dinner with my family.
Are you a morning or night person? Depends on the day. I can be up bright and early, but if the night calls for it, I can stay up all night.
My most treasured possession is … My two pups, Kwyn (mini Australian Shepherd) and Diesel (Dalmatian).
My guilty pleasure is … Caramel ice cream.
I'm most afraid of … Cockroaches. I can kill a spider and run from a snake, but have you ever tried to kill a cockroach? They simply pop back up and continue to run at you!
I can't discuss nails without … A huge smile on my face. They are my passion. Every nail is its own masterpiece, has its own challenges, and making someone feel beautiful makes me so happy.
Are you a fan of using Bio Sculpture Gel products? Let us know in the comments below!
This article was originally published in the December 2017 issue of NAILPRO Magazine.
[Images courtesy of Melanie Visser]