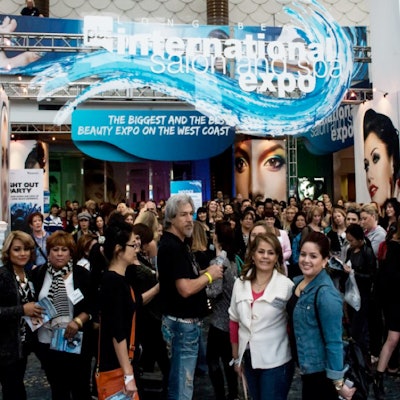 If you haven't decided whether or not you're attending 2015's ISSE Long Beach show hosted by the PBA (Professional Beauty Association), you might want to get your tickets now. The event will be January 24-26 at the Long Beach Convention Center.
This year will be the first year that ISSE Long Beach will have "The Nail Spot," a dedicated area featuring creative and technical education, nail competitions, and more.
The Nailpro Nail Competitions take place on Sunday, January 25, and count toward the 2015 Nailpro Cup. Categories include: Soak Off Gel Application, On My Own (your own hand – no model), Embossed Elegance (one hand), It's All About the Bling! and 3 in 1. Even if you've never competed in anything before, you definitely have a shot! Experience the thrill of a challenge and register here. Who knows? You may just win.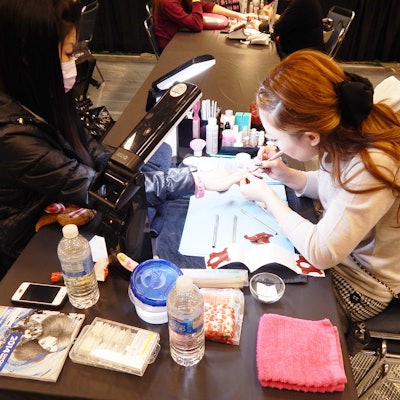 You can stop by and visit us at booth 1010 (along with our other sister magazines at Creative Age Publications!) and take a selfie in front of our banner to pretend like you're on the cover of the magazine.
The show will also have events you HAVE to be at, like the ORLY GEL FX Instant Artist Certification. It's a hands-on workshop led by Sam Biddle that will ensure you leave as a Certified ORLY GEL FX Instant Artist. Biddle will show you the fundamental basics to easily create stunning designs from simple to complex using vitamin infused GEL FX and Instant Artist, but there's only 20 spots so registering early is a must. You can register through probeauty.org/isselb or by contacting PBA.
There's also a night out party for ISSE Long Beach attendees and exhibitors. After two days of walking the sold-out expo floor, attendees are invited to a private party at Sevilla Nightclub on Sunday, January 25 from 8:30 p.m. to 12:00 a.m. Grab a bite to eat at the Sevilla Restaurant Tapas Bar and then head upstairs for the private nightclub party, featuring signature cocktails and a dance floor.  
Of course, you'll also find booths from all your favorite nail brands, as well as hair and skin companies. Bring walking shoes and cash – you'll want to stock up on some of the newest products for professionals!
If you're a member of PBA, you receive a 50% discount on admission to ISSE Long Beach. If you're considering becoming a member, know that students can join for only $20, licensed and unlicensed industry professionals can join for $50 and businesses can join for as little as $175.
Make sure to download the ISSE Mobile App to have all show times and class schedules on hand, plus a show floor map and list of exhibitors. Just search for ISSE Long Beach in the App Store or on Google Play.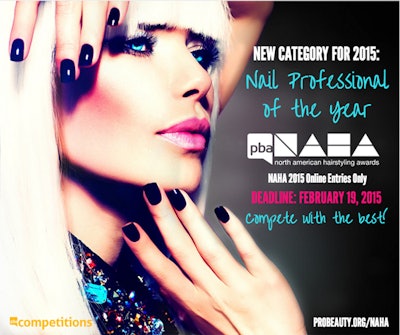 You'll also see a lot of things about the NAHAs at ISSE. Remember, this year will be the first year that the NAHAs will have a nail category – usually it's just a competition for hair. If you'd like to enter that (there's no harm in putting yourself out there!), sign up for that here.
Sign up for the ISSE Long Beach show by registering here.
Also – in memoriam of nail industry icon Vicki Peters (who passed away recently on Dec. 31, 2014, after a too-short battle with cancer), please wear any sort of animal print (shirt, nails, skirt, shoes!) on Sunday, January 25th to the ISSE Long Beach show. For more info on events for Vicki, see this announcement.
You can also stop by our booth (1010) to grab a #TeamVicki button in memory of Vicki Peters. Wear it each day of the show – but especially Sunday, January 25 with your other animal print!
[Image: PBA]