Follow Amie Pollard, nail school student and recipient of the Beauty Changes Lives|CND|Tippi Hedren Scholarship, through her days of school!
October 30, 2014
Well folks this is it, graduation week. On Tuesday night our school hosted another open house where people could come in and see what our school has to offer. Whether they were potential students or potential clients everyone enjoyed free mini services including up-dos, chair massages, mini manicures, and paraffin dips. Along with four of the current daytime nail tech students, we were all set up in the clinic for the mani manicures. It was a fun and easy night for us because we were all finished with our requirements. We were able to just have fun together before our graduation the next day.
On Wednesday, I went in early to set up a few decorations and food for our graduation party. It was bittersweet because I was excited to graduate, but I was also sad that I wouldn't be seeing these people three days a week that had come to be very good friends of mine. We were constantly being told that we had a great group and I couldn't agree more because we had grown so close. I hope that anyone who takes a class like this can walk away with more than just a great education, but also with some great friends and maybe even potential business partners. It is my ultimate goal to open and own my own nail salon in the future and I would hire any one of my classmates. I've even discussed it with one of them in great detail!
So as I was saying, I went in early to set up for our party. Once everyone arrived we signed off on some paperwork and filled out graduation surveys. Then we received some free services for graduation! They closed down the entire clinic at 6:30 so that we could have it all to ourselves and the night cosmetology students that we had also become friends with gave us all deep conditioning scalp treatments and scalp massages. Oh man, it was great! I had had such a stressful day running around getting things for graduation and just thinking about the whole day that this really relaxed me! The girl who did mine used a tea tree oil lavender mint conditioner and it was incredibly relaxing. My hair is so thick she had to refill her bowl because she ran out halfway through! Once the entire scalp is covered you sit under a dryer, like you would for a perm. Between the smell of lavender and the white noise of the dryer I was so relaxed I almost fell asleep! After the scalp treatment and massage they shampooed, blow-dried, and styled our hair and then our family members, the cosmetology students, and us all went to our class room to celebrate our graduation! Holy moly, you'd think we were feeding a football team. There was so much food and goodies that everyone took home leftovers! I made a special cupcake cake and also brought extra cupcakes while everyone else brought different snacks ranging from chips and dip to fresh homemade egg rolls! My teacher started out with a speech talking about our time together and then we received our diplomas. We all shared a little bit about our experience and what we got from the program, and tried not to get emotional! After receiving our diplomas and talking we ate! I also brought in gifts for my classmates and teachers, which included a hand painted mug with different sayings on them which I gave to them while we ate.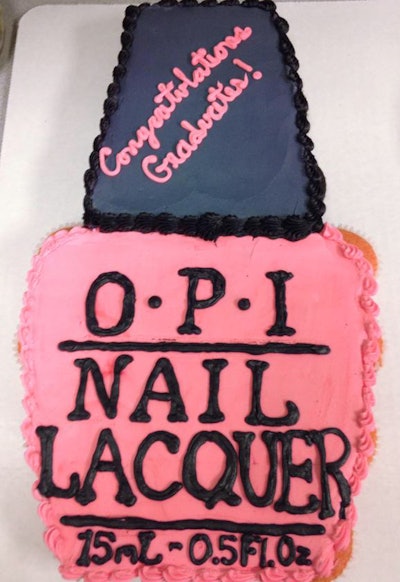 And that was that. After 4 months of learning and practicing we were done. I take away a great education, friends, and the ability to do something I really love and earn money doing it. I only wish that all people could do something like this in their lives. My mother always said if you find something you like to do, you'll never work a day in your life, and that's how I feel about nails. When I wrote my essay to enter in to the scholarship competition I said, "I'd say that if I had a job that made my customers happy, while also making myself happy, that I will have succeeded." and that is where I'm heading! If you are someone who is considering going to school for nails, or anything in the beauty industry, I will tell you this: do it! Don't let any potential roadblock hold you back. If you were to have asked me a year ago where I would be today, I would not have said, "graduating from nail school." It probably would have been something a lot more negative and pessimistic. Go out there and pursue your goals, whatever they may be. Things may just work out better than you think.
Thank you all for following me along this journey. I hope it has been as exciting for you as it has for me. See you soon. -Amie
See all The Nail School Diaries
[Images: Amie Pollard]