Alexa Chung is the current trendsetter for nail art – her tips are usually short and wearable, and her designs are delicate but totally covetable. In an interview, Grazia Beauty went straight to the source – the model herself – to nail down Alexa Chung's dos, don'ts, and favorites in the world of nails.
Alexa keeps things simple. Far from Rihanna's neon stilettos, Alexa likes nails in classic, simple colors. "In my opinion," she told Grazia, "this autumn should be all about pale pinks- the ultimate girly manicure."
When she does nail art, she keeps it feminine and subtle. Check out her daises, for example.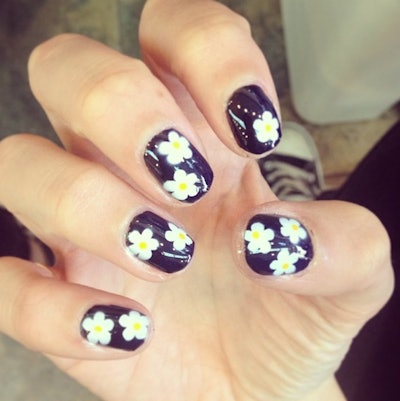 She doesn't do pedicures. "I hate people touching my feet; accidents can happen in the pedicure chair with my kick reaction."
On date night, she wears pink. Alexa confessed that though she doesn't often go on dates, when she does, she prefers Nails Inc. Alexa Sequin Polish – a line of jaw-dropping glitter toppers that share her namesake.
For her wedding day, she isn't wearing white…on her nails, at least. "It depends what I'm wearing but a classic red goes with everything."
See all of our favorite nails from Alexa. »
[Images: Instagram @chungalexa]