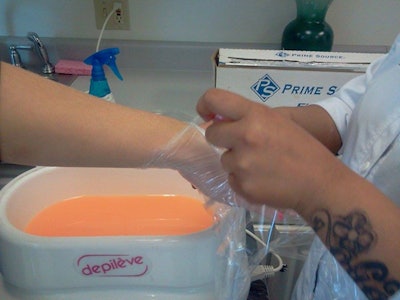 Follow Amie Pollard, nail school student and recipient of the Beauty Changes Lives|CND|Tippi Hedren Scholarship, through her days of school!
So goes the famous saying: "Wax on, wax off!" Paraffin wax that is! Week 5 brought us paraffin wax, hot oil manicures, and Chapter 4: Anatomy. It also included our first "Create the Event", but more on that later.
                
If you've never had a paraffin wax dip done before, stop what you are doing and go get one. Seriously, it is fantastic. For anyone unfamiliar with paraffin wax treatments, here is a quick outline. Paraffin wax has a low melting temperature which makes it safe for you to immerse your skin in it. You apply a moisturizing lotion to your hands (optional), dip your hands into the wax 3-5 times, wrap them in plastic wrap and then wrap a towel around the hand to hold in the heat.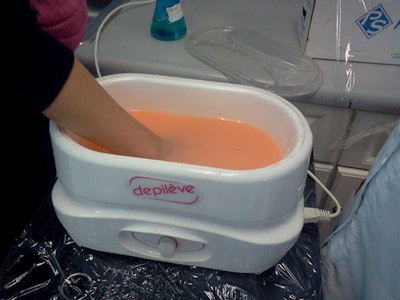 The wax stays heated for several minutes and as it hardens the heat opens the pores of your skin and moisturizers your hands. When the wax has hardened it is gently removed and it takes dead skin with it leaving your hands feeling soft and smooth.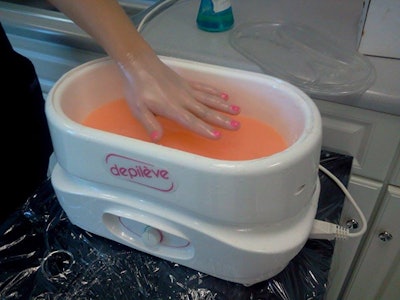 Paraffin treatments can be done to other areas of the body as well, such as feet and extra dry places such as the elbows. Besides leaving your skin feeling moisturized and soft, it is also beneficial as a heat treatment for aching muscles. This treatment is generally an add-on to manicures and pedicures, so it's a great money maker for salons!
 Along with paraffin waxing, we also learned the procedures of a hot oil manicure. This type of manicure is good for people with dry brittle nails, dry skin, excessive hangnails, or anyone whose job requires them to work a lot with their hands (especially those who work with harsh chemicals or those who have their hands in water all day). You can use a manicure lotion, or for more severe cases you can use cuticle oil. The lotion or oil is put into a heat resistant disposable liner and is placed in a heating device specifically meant for this type of manicure. Generally speaking, everything about a hot oil manicure is the same as a basic manicure except that the hot oil (or lotion) in these types of manicures replaces the hot soapy water of a manicure bowl.
If you're like me, you might think that a whole chapter on anatomy may seem like a waste of time. Sure, we should know the bones and muscles in the arms, hands, legs and feet, but why do we need to know the general anatomy of the entire body? It's actually more important than you may think. Did you know that rubbing muscles during a massage increases blood flow in the body? If you are not careful when massaging certain people, such as the elderly, there could be underlying consequences later on. You can also send a pregnant woman into labor if you over massage certain pressure points in the feet! We will learn more about that when we do reflexology in week 7.
Tuesday night was our practical night that week where you learned the paraffin waxing and the hot oil manicure, and Wednesday was theory night (book work) where we read the entire chapter (30 pages) in our books. We tested out on Thursday (another 100, which I was totally shocked about because this chapter kicked my butt) and then we had our first "Create the Event". In Maine the laws prohibit anyone from coming into the schools and requesting a specific student. However, once a month we can set up appointments (just like we would in a real salon) for our family and friends to come in and get services done. Not only does this allow us to share our knowledge and experience with family, but it also allows us to experience the process of booking an appointment and making confirmation calls. The instructors call this "on the job training".
 
Come back next week for Chapter 7: Client Care, men's manicures, and my favorite, nail art! Until next time. -Amie