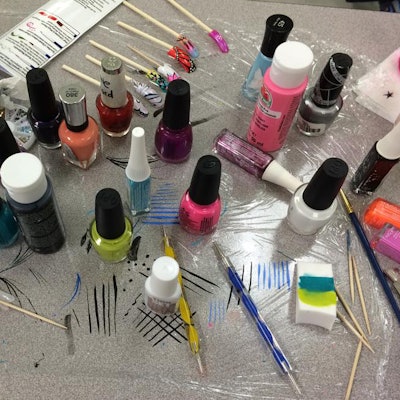 Follow Amie Pollard, nail school student and recipient of the Beauty Changes Lives|CND|Tippi Hedren Scholarship, through her days of school!
August 21, 2014
Week 6, the week I had been waiting for most! We were finally going to do some nail art! But before we get to that, let me outline the week for you like usual.
On Tuesday night we had theory (book work) on Chapter 7: Client Care. This chapter focuses on the 5 phases of service: 1. Greeting; 2. Ask, Analyze, Assess; 3. Agreement; 4. Delivery; 5. Completion. Each step is equally important, but you only have one chance for a first impression, so a proper greeting is vital. In this chapter, we also learned about client consultation forms, which are filled out during ask, analyze and assess. Some salons, but not all, have new first time clients fill one of these out before their first service. It provides the salon with personal information (such as name, number, address, etc.) as well as medical history. It is good to know someone's medical history so you know what services and products to avoid. In the agreement phase you make an agreement with the client about the service they will be receiving, including an agreement on price. In the delivery phase your goal is to provide your client with the best possible service that you can, and to explain to them the benefits of the products you are using throughout the service so that in the completion phase you can sell them these products to use at for at home nail care. It is important to follow through with each step to ensure quality service and customer satisfaction.
We tested out on Wednesday (100%!) and we started our practical lessons; men's manicures and nail art. The main difference between a regular manicure and a man's manicure is the shape of the nail (most men like short and round) and the polishing. While some men may choose to polish their nails, whether it is a color or a clear coat, a lot of men opt for a "buff and shine." This gives the nail a nice shiny finished look without using any products, other than maybe a bit of cuticle oil.
Before we were allowed to experiment with nail art on our fake nails we went over some basic nail art techniques; lines, circles, dots, etc. If you ever want to do this, just lay out a large piece of plastic wrap on your work surface, or you can print out designs you want to practice and insert them into a plastic sheet protector.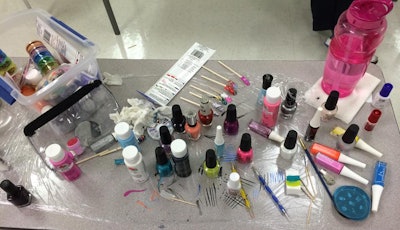 After practicing for a bit, we got to play around. As soon as I started working, all the ideas I had in my head earlier in the day just disappeared. I did a couple of water marble nails, as well as a butterfly design, and a dream catcher. As you can see from the photos, I got a little over excited and my work area got a bit, well, cluttered. I don't recommend this is you are really trying to do nail art, because it will be overwhelming. Plan ahead, and have only what you need for each design. In my later posts I plan to do photo tutorials on how to do some basic nail art designs to add a little something to each post.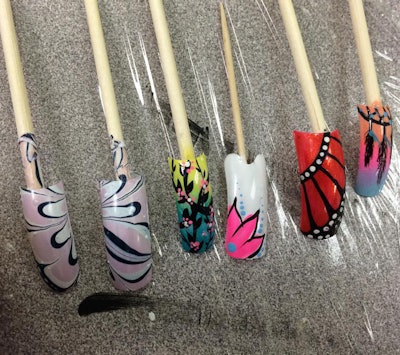 My advice for anyone who is interested in nail art: use acrylic paints for your designs. I use it for two reasons. For one, it's so much easier to use than polish because you have more time to work with it. And second, if you mess up on your design, most acrylic paints are water soluble so you can quickly wipe it off with water or rubbing alcohol. You can get these paints for fifty cents each at WalMart, and usually around this time of year, craft stores like Michaels and AC Moore will have them on sale 4 for $1! If you practice and get good at your nail art it can be a great add on to any service. Around here where I live some salons charge $3-$5 for a single nail and $20 for all 10 fingers or toes. These prices can vary depending on where you live. Don't get discouraged and just keep practicing, that's what I have to keep telling myself! See you next week! -Amie