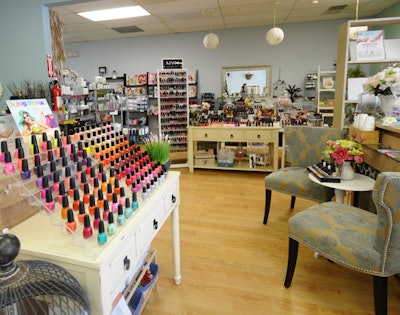 The first thing people notice upon entering Bodicare Nails & Spa is the smell — the salon makes and retails their own lotions, creams, moisturing oil blends, scrubs, and soaps, so despite all the polish and gel, the scent in the air is always cozy and pleasant. And by combining their custom-made products, friendly service, and fantastic education, Bodicare has created a one-of-a-kind oasis for clients.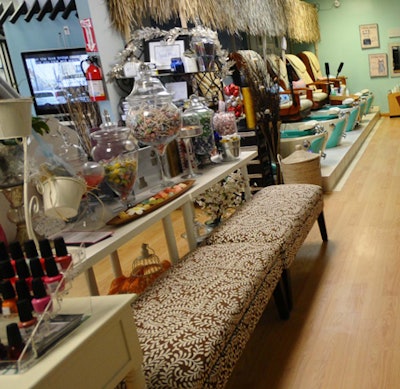 The Look
It's a very calming and feminine space, but not overly girly. It's based on French colonialism in Vietnam, so you will see elements of Asian and French design.
Our space looks impeccable at all times… everything in the salon has a place. It is always neat and exceptionally clean.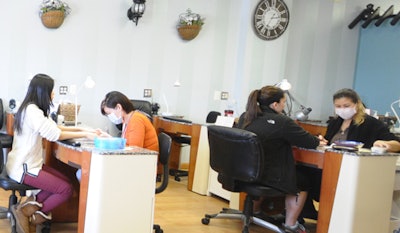 In-Demand Services
Our most popular service is a gel manicure with our custom-made jasmine and lemongrass moisturizing scrub. Your hands will look and feel completely different afterwards. I love doing this on clients with very dry, coarse skin because they are absolutely amazed by the results.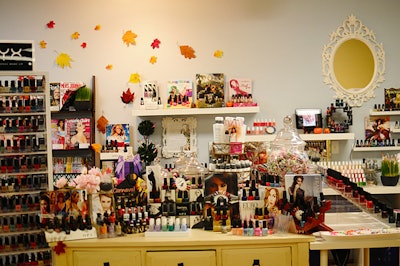 The Goods
We use quality polishes and gel polishes: Aritistic Nail Design, CND, Gel II, LeChat, Gelish, Jessica's Geleration, Ink, OPI, Zoya, Essie, Misa, China Glaze and NYX. We personally tested each brand for wearability and stand by them.  Not all brands made the cut.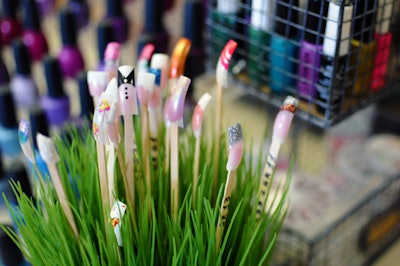 Inspiration
I firmly believe in education and continued education to stay ahead. That is something that was lacking in the beauty industry for a long time. That is why Jane Wurwand, founder of the International Dermal Institute (IDI) and Dermalogica, is my inspiration. She recognized that the skincare industry in the U.S. was vastly inferior to international standards and she set herself up to change that. I love a woman who just rolls up her sleeve and gets to work instead of bemoaning the wrongs of the world. I too want to change our industry. I would like to elevate the standards of our neighbor salons. There's one in almost every corner and plaza in my town.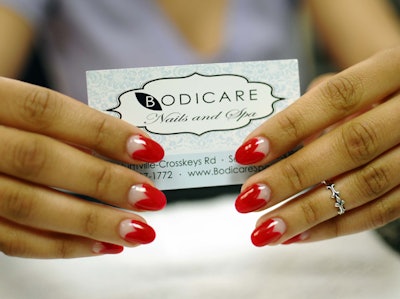 Social Media
We use Facebook to announce new polish collections, current trends, display interesting designs and promote specials.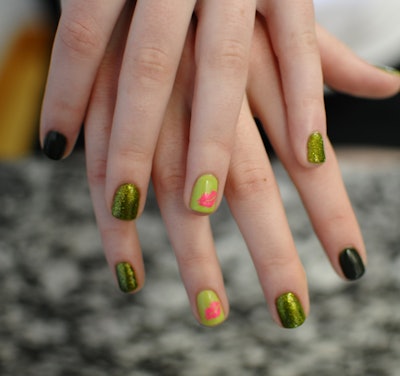 Praise
We have a very personalized relationship with our clients.  Our business is 85 percent referral, so we usually get the whole family: mothers, daughters, grandkids, aunts, uncles, brothers, husbands–even an ex-husband who has become a regular client!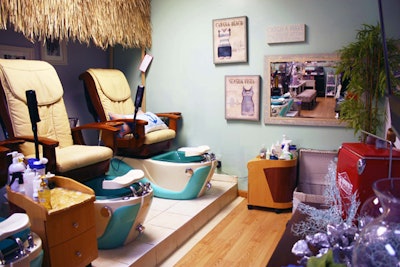 Tips
Luck plays a big part in a new business doing well from the start. I would not count on that however. The landscape for nails has changed so drastically that a successful business five years ago may not do as well now. Don't do this just to make money, do this because you have something of substance to offer to your clients and do this because you love it. I cannot begin to tell you the hours I spend a week on the business, but it's tolerable because it's what I want to do. I believe that I am offering something that my clients can't get anywhere else: crazy selections, a warm atmosphere, and our team's OCD need for things to be in place and clean.  
Salon Information:
Salon Name: Bodicare Nails & Spa
Year Opened: 2012
Address: 421 Hurffville Crosskeys Rd, Point Plaza #2, Sewell, NJ  08080
Phone Number: 856.887.1772
Hours of Operation: Mon. – Fri. 10 a.m. – 7 p.m., Sat. 10 a.m. – 6 p.m., Sun. 10 a.m. – 4 p.m.
Website: Bodicarespa.com
For more photos and an expanded interview with Avy Tran
click here »
[Images: Bodicare Nails & Spa]