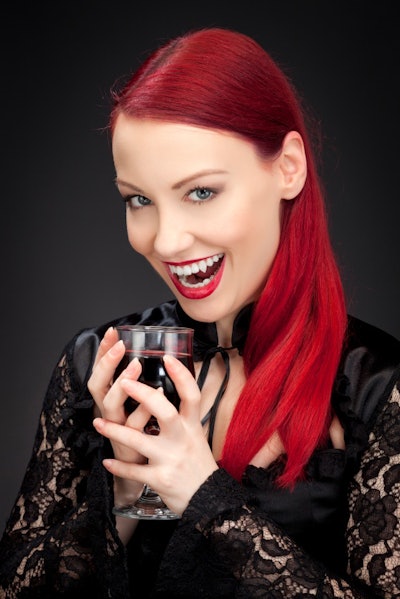 The color scheme of Edward and Bella's wedding—rumored to outdo the recent royal nuptials— will be light purple and white, yet Kristen Stewart's character in The Twilight Saga: Breaking Dawn Part 1, wears a natural nail. Will this change once she's finally bitten? Might not.
In the "what do female vampires wear on their nails research," we found that the most common styles were one of these three: pointed long enhancements, red or vampy colored long or short, and natural short nails.
Those enamored with the dead will recall that pointy nails are more accurate to the history of vampires, however modern looks or vampires disguising their identity will often wear shorter nails.
So, NAILPRO is giving you a list of products you can use to create the mysterious, often misleading looks of the daring dead.
Colors
Red Bloody Mary from Duri
Deep purple Crimson from China Glaze
Crown Jewels from CND
Wine Carry On from Essie
Enhancements
European Stiletto Nail Tips from Star Nail
Shooting Star International Designer French Tips
French Tips from Republic Nail
Nouveau Tips from Backscratchers Salon Systems
Images courtesy of istock.com (main) and thinkstock.com
Related: Embrace 2012's Top Color with How Street It Is from China Glaze | HaLloWeeN Nails Sneak Peek | October Looks | Minx Team Sets Up at New Orleans Festival | Step by Step Halloween Nail Art