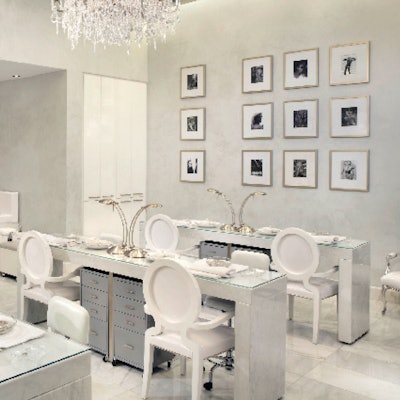 One word comes to mind when you think Las Vegas. No, not gambling, nor strippers. The Vegas of today exudes opulence, and at COLOR there is certainly no shortage of it. When Michael Boychuck created his Las Vegas salon nestled in Caesars Palace, he wanted to build a modern design space, peppered with classic glamour, where visitors could have highly skilled professionals enhance their natural beauty while catering to their every need. Luxury and sophistication ooze from this salon—wait until you try the services!
Salon Statistics
Year Founded: 2008
Owner: Joint partnership with Caesars Palace and Michael Boychuck
Website: www.harrahs.com/color
Address/Phone: Caesars Palace, 3570 Las Vegas Blvd. S., Las Vegas, NV 89109; 866.730.7791
Hours: Sun.-Thurs., 10:00 a.m.-6:00 p.m.; Fri.-Sat., 9:00 a.m.-7:00 p.m.
Signature Service: The Chardonnay Pedicure using Le Vin products. The French, despite a diet rich in fatty foods and a high percentage of tobacco users, have one of the lowest rates of heart disease. The secret? The consumption of red wine, which imparts antioxidants that protect the cardiovascular system. Unlike in red wine making, Chardonnay grape seeds are removed from the grape juice prior to fermentation, leaving all antioxidants intact for extraction. So while red wine is better for your heart, Chardonnay based Le Vin is the perfect pairing for your skin, and provides the ultimate in pedicure services.
Most Popular Retail Item: Le Vin Chardonnay Body Moisturizer
Related Stories: 20 Lounge • Isle PediSpa • Ki Nail Bar & Organic Spa • Studio One Salon & Spa • Velvet Nail Lounge • Richard Joseph SalonSpa • Sephora Nail Studio by XpresSpa • Elizabeth Arden Red Door Spas • Julep Nail Parlor • Le Posh Spa|Salon|Lounge • Bellacures • Lulu's by Travis Parker • Elizabeth Ashton Ayurvedic Nail Spa • MiniLuxe • New Brentwood Gardens Nail Salon • Beauty Box Salon & Nail Spa
---
Post your nail art in our Users' Nail Art Galleries » and share, vote or link from your own nail art blog! Don't miss our digital edition for step-by-step nail art » and check our website's nail art archives » for nail art you might've missed!
---