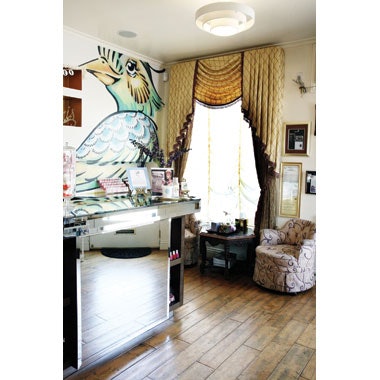 The mantra behind this San Diego-based salon—the belief that luxury services (that don't cost a small fortune) can be provided in an ultra-clean, hip and comfortable environment—is what sets Lulu's apart from the crowd. Guests can escape in the quaint South Park village with deliciously seasonal services provided in a funky tattoo art-meets-vintage glamour boutique atmosphere. "It's like being in a jewel box," touts a regular client. The salon has built its client list based on the fact that the techs know the difference between a manicure and a manicure that's done well.
Salon Statistics
Year Founded: 2005
Owner: Keri and Travis Parker
Website: lulusbytravisparker.com
Address/Phone: 2348 30th Street, San Diego, CA 92104; 619.521.2026.
Hours: Mon., 12 p.m.-5 p.m.; Tues.-Wed, 10 a.m.-7 p.m.; Thurs., 10 a.m.-8 p.m.; Fri., 10 a.m.-7 p.m.; Sat.-Sun., 9 a.m.-6 p.m.
Signature Treatment: "A specialty pedicure that we change every two to three months. They are always relevant to the season, and we have yet to repeat one! It really keeps things fresh and exciting, and clients cannot wait to see what the next one will be. Oftentimes, we will tie the specialty pedicure with a local charity and a portion of the proceeds will go to that organization," enthuses Keri.
Best Selling Products: Butter London nail polishes and a foot paddle imported from Japan.
Related Stories: 20 Lounge • Isle PediSpa • Ki Nail Bar & Organic Spa • Studio One Salon & Spa • Velvet Nail Lounge • Richard Joseph SalonSpa • Sephora Nail Studio by XpresSpa • Elizabeth Arden Red Door Spas • Julep Nail Parlor • Le Posh Spa|Salon|Lounge • Bellacures • Elizabeth Ashton Ayurvedic Nail Spa • MiniLuxe • New Brentwood Gardens Nail Salon • Beauty Box Salon & Nail Spa • COLOR a Salon by Michael Boychuck
---
Post your nail art in our Users' Nail Art Galleries » and share, vote or link from your own nail art blog! Don't miss our digital edition for step-by-step nail art » and check our website's nail art archives » for nail art you might've missed!
---