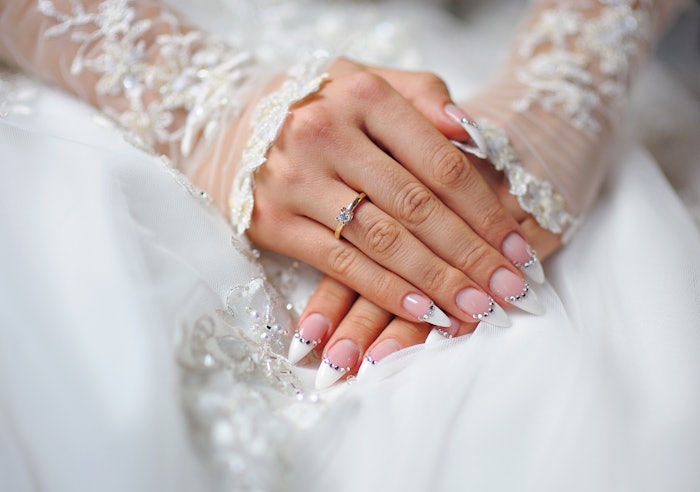 Nails.co.uk has uncovered the top 10 colors to paint your client's nails on your wedding day by analyzing 169 products under the search term "Wedding nail polish" on Google and finding the most common color amongst the list of products.
The study found that pink is the most popular color that clients will want on their wedding day. Twenty-nine colors were identified in the product names across all 169 products analyzed, but pink was the color that topped the list being the shade that made up 37% of the products.
Liana Thomson, nail expert at Nails.co.uk, says, "In a recent study we conducted, we found that almost two in five nail polishes advertised for a wedding on Google shopping are pink making it the most popular color for the event."
"Pink is a hugely popular color among brides. A soft pink can be a popular option as it is subtle and does not detract from the all-important wedding dress/gown," Thomson adds. "However, that being said, we don't think you need to have neutral nails on your wedding day if that isn't you. Hot pink is often a color associated with fun and spontaneity, so if this sounds like you why not go for that? A shade of hot pink has actually been named Pantone's Color of the Year [for] 2023, and the fashion trend 'Barbiecore' isn't going anywhere anytime soon, so 2023 brides should consider a hot pink nail shade."
Interestingly, rose was the second most popular shade on the list, and this is a bright color that is described as halfway between red and magenta on the HSV color wheel.
White was the third most popular color on the list with 13% of the 'wedding nail polish' products being white. Is white a sensible color to paint your nails on your wedding day? Sure. Is it safe to wear as a guest? Well…
According to this Reddit post, a maid of honor wore white nails to a bridal shower, and it resulted in her being asked to leave the event and the bride in tears.
"There is an unwritten rule that guests to a wedding should not wear white. However, this does not extend to nail color," Thomson says. "If you want to paint your hands or toes white, this should not be a problem. Many wedding guests can leave their outfit to the last minute, or some guests may have multiple outfits for the special day (or even days), so white can be a great option to ensure your nails blend in perfectly with all your outfits"
White is also an excellent choice for the brides. 
 "White is an obvious choice for many brides with more than 4 in 5 (83%) wedding dresses being white," Thomson explains. "Many will opt for a classy and simple white French tip nail design, but you can still expect a classic look when painting all the nails white." 
You can see the full list of ranking of the 10 most popular wedding nail polish shades below: 
Pink: 37% 
Rose: 14% 
White: 13% 
Nude: 12% 
Red: 8% 
Blue: 6% 
Gold: 6% 
Purple: 5% 
Sand: 4% 
Pearl: 4%