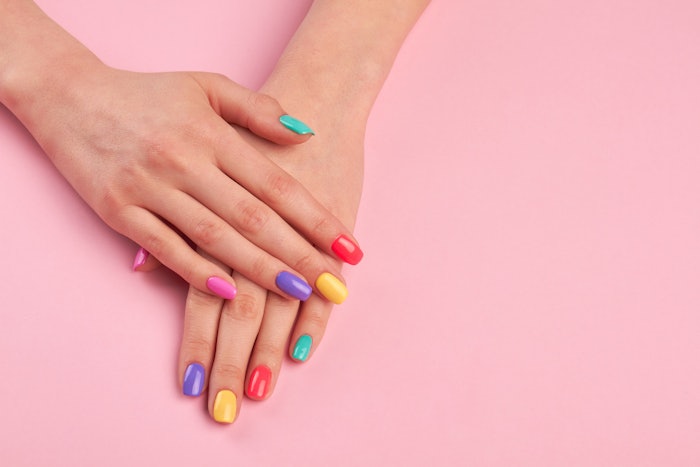 Nails.co.uk has uncovered the most and least popular nail colors to wear after analyzing 1.24 million reviews across 890 highly-rated nail polishes on Google Shopping.
They have analyzed the review score and the number of reviews for the top 89 products for the 10 most popular colors on Google. Here's what they found: 
Green is the most popular nail color to wear. 
Color experts say that green is regarded as the most restful and relaxing color for the human eye, which makes sense as to why most people would choose it as the color to paint their nails.
"'Bottega Green' is a shade of green that has stormed the fashion industry since 2021," Liana Thomson, nails.co.uk expert, explains. "Since then, we have seen every single shade of green crop up in both our wardrobes and on our nails, which helps explain why it is now the most popular nail color according to our new study."
Yellow is the least popular nail color. 
According to the data, yellow is the least popular color of the 10 most common colors. 
Color psychologists claim that the color yellow stands for cowardice, deceitfulness, impulsiveness, and egoism. More claims suggest that high levels of exposure to yellow can also lead to aggression and irritability; however, painting your fingernails yellow isn't going to give you enough exposure to the color to cause you any problems. 
Experts say to paint your nails orange in July. 
In the study, orange was found to be the second most popular nail color. 
Searches for 'orange nails' spike every year in July and have done so for the last 5 years, showing that summer is the best time for this nail shade. 
"Orange often brings out the brown and red tint in your skin, which is why it is a popular choice peak-summer," Thomson explains. 
Grey nails are more popular than pink nails. 
The research found that grey was a more popular nail color with an average star rating of 4.53 placing it as the third most popular nail color, five places above pink, which sits at seventh place.
"Pale pink is a typical nail color choice for many because of how natural the color is on the nail bed," Thomson says. 
Subtle shades, like pink and nude, are more commonly allowed in the workplace, unlike bolder and braver choices such as yellow, red and orange.
"We believe that grey has appeared higher on the list because it is still a color that is subtle enough to wear every day but is different enough to stand out from the majority of painted nails," Thomson explains. 
You can see the full list of the most popular nail colors according to the nails.co.uk study below. 
Top Ten Most Popular Traditional Nail Colors
Green 
Orange
Grey 
Red 
Purple
White 
Pink 
Black 
Blue 
Yellow