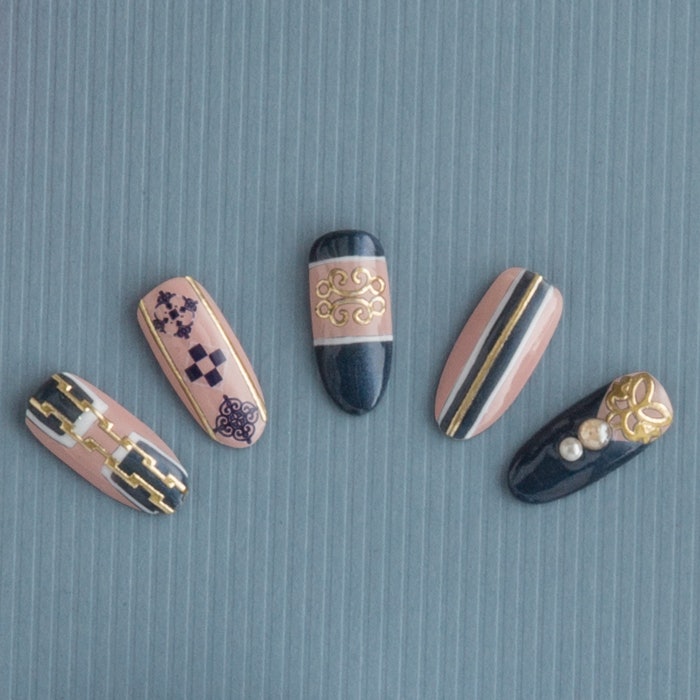 The modern Mrs. will say "I do" to these creative nail art looks inspired by timeless tradition.
Although bridal trends change from year-to-year, even season-to-season, the old adage "something old, something new, something borrowed, something blue" is a small piece of forever. This wedding season, why not put a new twist on tradition? We recruited top artists to create imaginative nail looks that reinterpret this age-old custom for contemporary brides.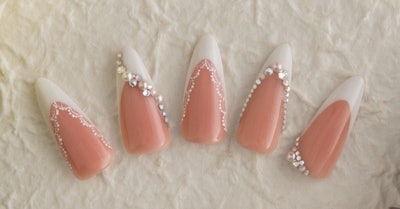 Something Old
The "something old" keepsake a bride carries with her on her wedding day is typically a family heirloom that has been passed down from generation to generation. Translate that to nails by opting for a classic look (think: pink-and-whites) with a vintage vibe—adding rhinestone and pearl embellishments or hand-painted lace. For brides who subscribe to the "more is more" approach, you can do it all, as U.K.-based nail artist Scarlett Senter did here. "Adding lace gave my design extra detail while still maintaining the vintage feel I was after," she says.
RELATED: Nail Art Inspired by Bold City Landscapes
"I used a very fine detail brush and gel paints to create the tiny lace detail. One of the benefits of using gel paint is that if you need to tidy up or remove anything before curing, you can wipe it away and redo it until it's just right," says Scarlett Senter.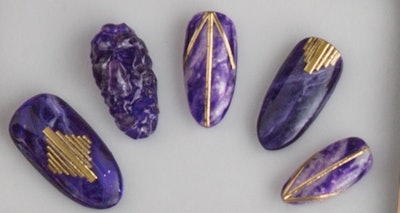 Something New
Chic brides are replacing traditional gold accents with mixed metals, copper finishes and even clear acrylic, particularly in wedding decor. Conventional table centerpieces are being transformed into tiny geometric terrariums, and lacquered chairs are being swapped out for Lucite. When adding art to nails, consider ditching traditional rhinestones and pearls for cool metal embellishments and geometric decals. And don't let conventional polish hues dictate your bride's lacquer of choice: This "new" set, created by Los Angeles-based celebrity nail artist Bel Fountain-Townsend, incorporates the au courant Pantone Color of the Year Ultra Violet into marbleized tips trimmed with art deco-inspired gold striping tape.
RELATED: Nail Art Inspired by Eye-Popping Prints From the Runway
"The 3-D nail features real amethyst chips encased in high-viscosity gel. I started at the center of the nail and flash cured each individual chip to ensure they stayed in place until the entire nail was covered," says Bel Fountain-Townsend.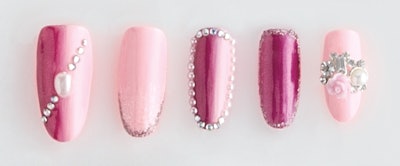 Something Borrowed
Your sister's veil. A friend's handbag. Your grandmother's ring. Countless tokens are borrowed on wedding days in order to symbolize borrowed happiness, as the phrase decrees. But consider this modern approach: Borrow techniques from another beauty discipline—makeup—to fashion unique tips. Play with light and dark to contour the nail. Pack on loose pigment powder to stunning effect. Even makeup brushes themselves can be used to achieve customized designs. Danalynn Stockwood), nail artist and owner of FunFancyNails Studio in Orange, Massachusetts, tapped into makeup artist inspo by contouring nails with embellishments and blending pigments to create dimension.
RELATED: Nail Art Inspired by Patchwork and Quilting
"I wanted to define the shape of the nails, so I used stones to create a contour effect. Blending colors together with an ombré brush helps to define the shape of the nail as well," says Danalynn Stockwood.

Something Blue
The oft-worn—and sometimes dreaded ("Where will I put it?")—"something blue" represents purity, love and fidelity. Today, brides are updating the custom: Instead of sewing a piece of blue ribbon into the hem of their wedding dresses, they're adding a bit of blue to tips and toes. And while robin's-egg blue remains a staple, don't feel confined to pastels. Navy blue is an on-trend hue that gets a feminine touch when paired with blush and gold accents, seen everywhere from wedding invitations to bouquets to fingertips. Scottsdale, Arizona-based nail artist Sukura McLawson created an ultramodern take on blue utilizing nautical navy and negative space spiked with metallic gold.
"When painting straight lines, make sure to flip the hand to the client's perspective so you're able to view your lines from all angles. Use a reliable brush and pull on the nail when painting to create smoother lines," says Sukura McLawson.
– by Dina Ciccarelli
[Images: by Brooks Ayola]