While many high-fashion pieces could be considered works of art in and of themselves, when designers plaster art-derived prints and appliqués on their wares, the body becomes a gallery wall. Tapping into the artistry of Niki de Saint Phalle, Christian Dior creative director Maria Grazia Chiuri embellished a dress with a crying beauty inspired by the 1970 piece Rain, Clouds and Tears, complete with rhinestone teardrops. Also putting females front and center: Alluring outlines of women smoking or chatting on the phone adorned Marni's silky camisoles and skirts—a direct dupe of artist David Salle's 1979 painting Untitled. Coach upped its cool factor by dotting everything from sweaters to handbags with artist Keith Haring's graffiti-style dancers. And at Akris, artist Alexander Girard's zany "Wooden Dolls" played a larger-than-life role, not only on the wares, but also as a feature of the runway set design.
RELATED: Nail Art Inspired by Patchwork and Quilting
Many designers found inspiration from fine art references, and you can, too, by translating these designs onto your favorite canvas: the nail. Guest artist Christina Zalec dabbled in various mediums to turn her nails into works of art: She not only brought a deft amount of shading into her Versace-inspired pop art tribute, but also took dimension to a whole new level by creating the illusion of brush strokes with embroidery thread and wire.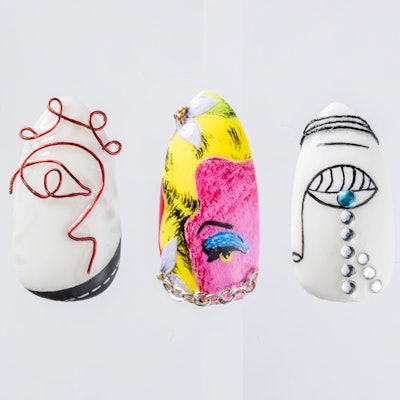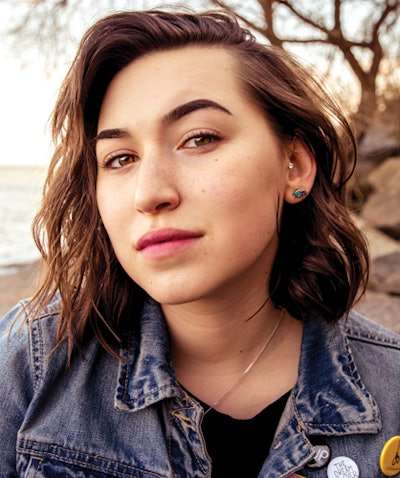 Guest Artist:
Christina Zalec is a Canadian graphic designer who runs the popular @the_nailguru Instagram feed.
–by Karie L. Frost
[Images: Fashion photos by Getty Images; nail art photos by Brooks Ayola]