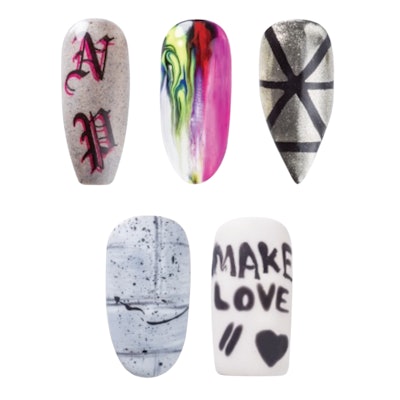 A bustling cityscape boasting steel, brick and paint inspires bold nail art designs.


Step 1 Apply two coats of gray gel polish. Seal with no- wipe top coat.
Step 2 Use a clear jelly stamp- er to create Old English letters in bright pink polish. Place the letters slightly off-center to leave space for the second stamp layer. Allow the polish to dry completely.
Step 3 Then, stamp the same letter with black polish on top of the first design, positioning it slightly off-center to create a shadow effect. Finish with top coat.
RELATED: Nail Art Inspired by Eye-Popping Prints From the Runway


Step 1 Apply one coat of black gel polish and seal with no-wipe top coat.
Step 2 Apply silver chrome powder to the entire nail. Do not apply top coat.
Step 3 Use a detail brush to paint gel top coat in triangular shapes on the nail. Apply the gel top coat only where you want the chrome to show.
Step 4 Use an alcohol solution on a lint-free wipe to remove the excess chrome and reveal the negative- space design.
RELATED: Nail Art Inspired by Patchwork and Quilting


Step 1 Apply white gel polish to half of the nail and fuchsia gel polish to the other half.
Step 2 Add a drop of navy blue, yellow, red and black gel polish onto the base of the nail. Do not cure. Then, use a dotting tool to gently swirl the uncured gel. Do not cure.
Step 3 Use a soft, flexible oval brush to lightly drag the mixed gels toward the free edge. Add more gel to achieve the desired look. Seal with gel top coat.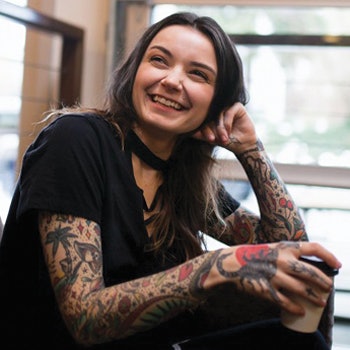 Guest Artist:
Asa Sieracki is a Portland, OR-based nail artist.
"I was inspired by the bold landscapes we see in the city day-to-day—concrete, spray paint, graffiti and bright accent colors in a sea of skyscrapers, and the haphazard beauty that encompasses street art," says Asa Sieracki.
[Landscape Images: Getty Images]