Artsy and crafts-y yet super-luxe: The homespun trend of the season takes quilting and patchwork techniques to a whole new level. Gleaming strips of opulent brocade and jacquard received the patchwork treatment with puffs of shearling, leopard-print fur and quilted velvet on an Etro jacket. A Calvin Klein coat appeared to be born from a local quilting circle, with tiny star-spangled triangles sewn into arresting rows. Layers of patches and handkerchief-pattern fabric dominated the thighs on a pair of jeans at Coach, while an Alexander McQueen dress boasted what looked like a hand-embroidered assembly of fabric squares and strips, but is actually printed fabric. And at Dolce & Gabbana, an ankle-scraping duster coat possessed all the scraps of fabric a quilter could ever want, each strip tiered and layered to dazzling effect.
If artisan-style nail art speaks to your clients, sit in on guest artist Ran Kowatari's nail art circle: In her simplest design, she mixes several hand-painted patterns and color blocks for a smart patchwork effect. To amplify this idea, Kowatari overlays actual swatches of fabric, such as felt and denim, onto her crafty nail art designs.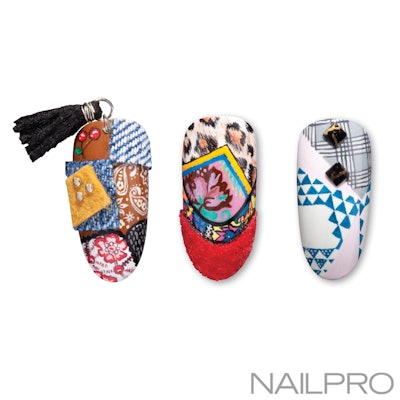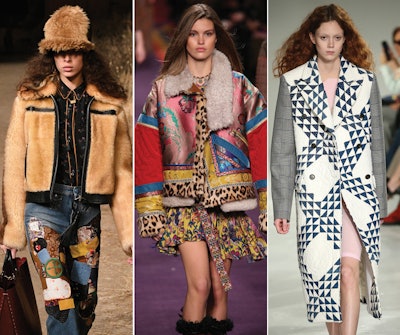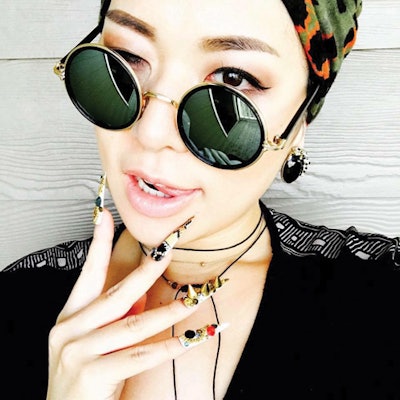 Guest Artist:
Best known for her innovative style and signature hand-detailed nail art, Ran Kowatari is artistic director of RAN Design Studio in Atlanta.
–by Karie L. Frost
This article was originally published in the December 2017 Issue of NAILPRO Magazine.
[Images: fashion from Getty Images, nail art from Jason Bennett]