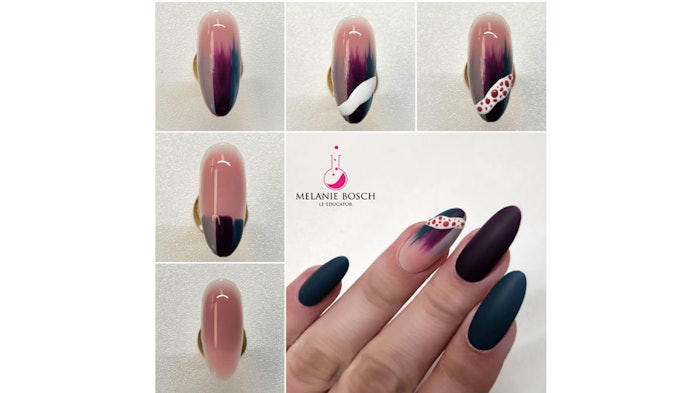 Melanie Bosch and Elizabeth Mericle, Light Elegance brand ambassador and educator (respectively), have come up with three fall how-tos. 
Inspired by The WhoDunIt? collection from Light Elegance, these looks will have you ready for the changing season. 
How-To: 
Elizabeth Mericle - @mericlenails
Fall Abstract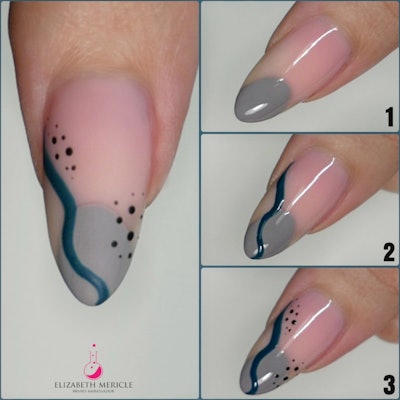 Apply an oval shape on the tip of the nail with a gray colored polish.
Apply a wavy line with a blue/green color. 
With a dotting tool, apply clusters of dots with a black color.
Apply a matte top coat to finish. 
Melanie Bosch - @melsgelnails 
Fall Abstract (Featured Photo Set)
Start with a light pink building base gel. 
Apply a gray, dark purple and blue/green color on the lower half of the nail.
Using a stripy brush, pull lines upward to ombre the colors, and cure.
Add a large line of white UV/LED color gel, and cure. 
Using a swirly brush, apply irregular shaped dots of a brick red color, then cure. 
Apply a flat matte top coat, and cure.
Elizabeth Mericle - @mericlenails 
Layered 
Apply a gray colored polish at the cuticle and pull down all the excess product down the nail.
Do the same thing with a fuchsia pink color, but leave a space so you can still see the previous color.
Repeat again with a plum purple color.
Apply the same plum purple color with a dotting tool on the gray color by the cuticle. 
Finish with a top coat.