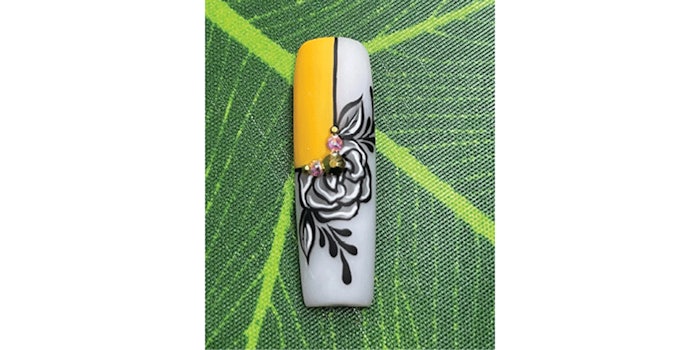 Courtesy of Jose Cordova
Jose Cordova breaks down how he created this floral summer set for the cover of Nailpro's July/August 2022 issue. Check out the how-to to recreate this crisp set.
Start with a white base.
Add a geometric shape with pop of color.
Outline your shape in black.
Create the silhouette of the flowers using black gel paint.
Mix clear and black gel polish to create shading within the flower.
Add white for highlights.
Add a matte top coat.
Add embellishments, and you are done.
To see all the step-by-step photos, continue reading Nailpro's July/August 2022 digital magazine.
Related: Behind the Cover: Tropical Summer
About the Nail Tech
Jose Cordova was introduced to nails as a teenager by his mother who was a nail enthusiast. He first learned how to apply nails while living in Mexico with the help of nail magazines and their step-by-step tutorials. In 2016, after having tried his luck in other industries, he realized he needed to pursue nail artistry as a career and got his cosmetology license. He is a now a Phoenix-based nail artist specializing in dynamic hand-painted nail art.