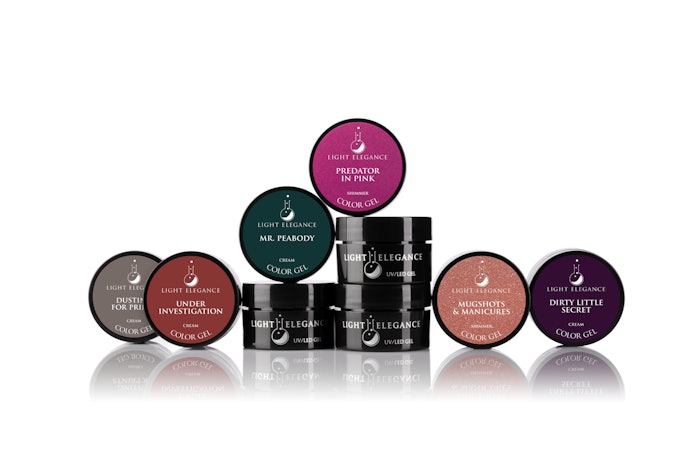 Courtesy of Light Elegance
Light Elegance has launched its fall 2022
 

collection,

 

The WhoDunit?,

  

in itscolor, glitter gel and soak-off P+ gel polish.

Light Elegance is a leading innovator of 100% HEMA-free professional-grade UV and LED gel nail products and acrylic nail systems.

The WhoDunit? collection features 12 new on-trend shades, ranging from dark and mysterious to classic and elegant.

Lezlie McConnell, co-founder and co-owner of Light Elegance, said, "What is better than colors that are dramatic and mysterious? Looking at the trends for fall 2022, we saw strong neutrals and dark jewel-tones. The jewel-tones range deep purple to dark teal to fall fuchsia laced with satin. The neutrals include everything from rich browns to greys touting sophistication. The WhoDunit? collection is full of so much surprise, mystery and romance—all made to work perfectly together thanks to the expertise of the LE Color Team."
Color Gel and Gel Polish
Dirty Little Secret: A deep, dark plum-purple. 
Dusting for Prints: A creamy gray with the slightest touch of lavender undertones.
Mugshots & Manicures: A rosy mauve-neutral with tiny sparkles of silver and gold glitter.
Under Investigation: A creamy, dusty brick red with a slight brown undertone.
Mr. Peabody: A creamy, jewel-toned blue-meets-green. 
Predator in Pink: A pink-fuchsia laced with heavy shimmer.
Glitter Gel and Glitter Gel Polish
Caught Red Handed: A candy-apple red fine glitter gel. 
What's Your Alibi?: A brown-gold copper with fine and chunky glitter gel.
Questionable Motives: A mixture of lavender and teal chunky placement glitter.
No Clue: A fine glitter composed of dark blue and green iridescent pieces with a black undertone. 
Smokin' Gun: A soft taupe with an elegant dusting of fine pink glitter throughout.
Miss Suspicious: A sparkly, light rose-gold with matte white pieces throughout.