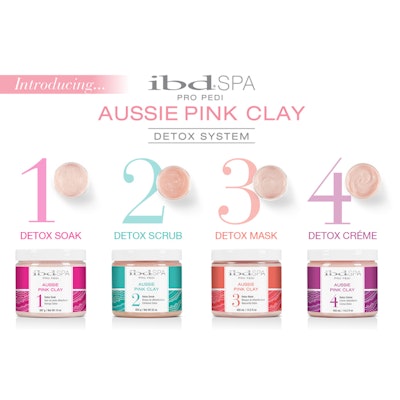 ibd introduces Aussie Pink Clay Detox Pedicure System that can help boost business with its ibd Spa Signature Massage.
Australia's lovely pink clay is known as a powerhouse ingredient for detoxifying and smoothing. With its uniquely balanced composition, this all-perfect clay is vigorous enough to draw out impurities and cleanse pores yet gentle enough to leave skin soft and nourished. Delicately refines skin's texture to improve smoothness, elasticity and radiance. Highly pampering and ideal for sensitive skin in need of a deep cleanse.
Even long ago, the Australian Aborigines knew pink clay had the ability to draw out toxins from skin. Today, pink clay remains pure and potent as it's only found in the great, untouched wilderness of Australia.

ibd harnesses the therapeutic purifying power of Aussie Pink Clay for its first pedicure collection. Pink Clay detoxifies and deeply-cleanses while a naturally gentle exfoliating action unveils a new layer of soft, touchable, glowing skin. Enriched with minerals, antioxidants and intensive benefits, it also hydrates, nourishes and revives tired, tough soles, leaving them smooth as silk, radiantly refreshed and replenished.
We recommend that you spend at least 10 to 15 minutes on this relaxing, bliss-inducing massage. Practice will soon give you a consistent and soothing touch. Break contact with skin gradually when the massage is over.
Important tip: No matter which massage technique you use, always sweep towards the heart.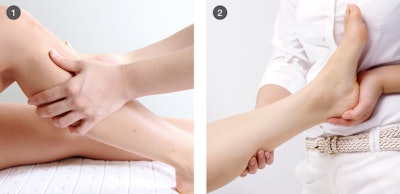 1. Applying Creme
Scoop the ibd Spa Aussie Pink Clay Detox Crème into your hands before you begin the massage. With long sweeping motions (always stroking toward the heart) and firm pressure, apply lotion to the foot and leg.
2. Kneading the Calf
Using a kneading motion, massage the calf; try using your knuckles, thumbs, fingertips and palms.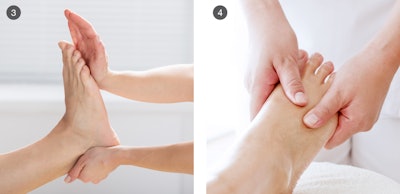 3. Rotate the Ankle
Cup the heel in the palm of your hand and using your free hand, gently rotate the ankle 3 times to the left and then 3 times to the right.
4. Massage Top of the Foot
With your thumbs, massage the top of the foot in a circular pattern from toes to ankles.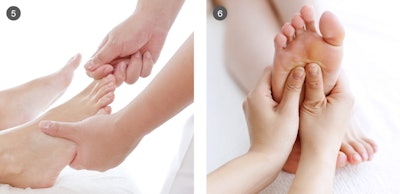 5. Pull and Rotate Toes
With your thumbs and index finger, gently pull each toe, then rotate it to the left 3 times and to the right 3 times.
6. Massage the Bottom of the Foot
Using your thumbs, massage the back of the toes and ball of the foot in a circular motion.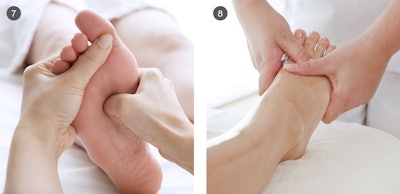 7. Kneading the Arch
Make a fist and use your knuckles to knead the arch with firm yet gentle pressure; twist your wrist back and forth.
8. Breaking Contact
End your massage by gently stroking the entire foot with your fingertips. Break contact and repeat with the other foot.
Available now at professional beauty supply stores.