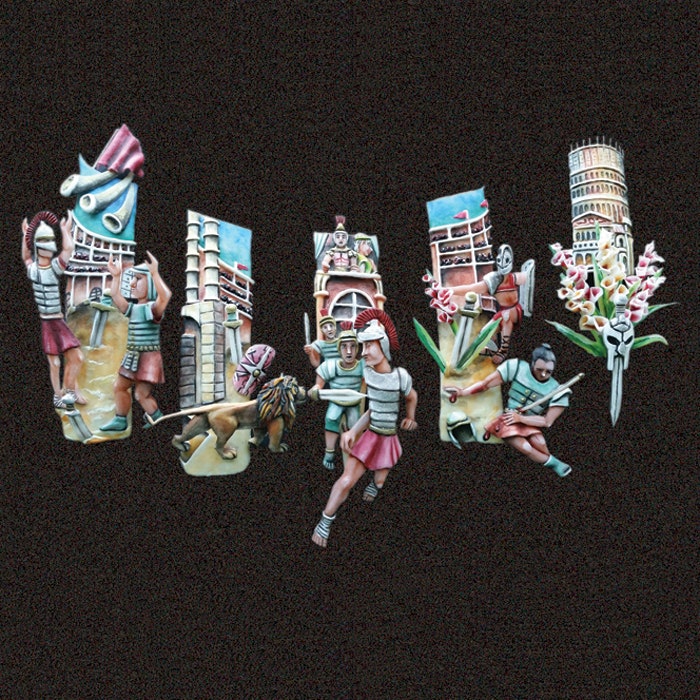 For techs who have spent a ton of time on the competition circuit, recalling the best set of nails that they've ever done may sound like an impossible task. But, we discovered that certain events and entries do stand out in their minds. While these competition nails may have been memorable because of how well the techs scored, they are also a testament to the obstacles each competitor overcame, the skills they perfected and the positive feedback they received from peers and judges alike. Here, these accomplished artists share the details of what made one particular set so memorable.
"I always struggled with hand-painted nail art; I was so heavy-handed and [the work] would turn out looking like a 4-year-old did it. But, after deciding it was a skill I was going to master, I took a class with Paulina Feinauer, and she taught me how to use my brushes the right way. I felt so much more confident after that. For the Hand-Painted Nail Art category at the 2013 NAILPRO Sacramento show, the theme was Ghost Stories. I based my art on a book I loved when I was younger called "Scary Stories to Tell in the Dark." I created the designs with a white gel polish base and black and white watercolor paint. In the end, I was blown away by how well I did. I was happy to take third place in the Novice division, especially since I hadn't competed in the hand-painted nail art category before. It was a very proud moment." —Amanda Lenher, 2016 & 2017 NAILPRO Team Cup champion.
"At the Soak-Off Gel competition at NAILPRO Pasadena 2016, everything just fell into place. I wasn't too nervous, I was able to focus and I came in first place—it was the highest I've ever scored in any competition! After the awards ceremony, one of the judges came to talk to me and said she had been looking forward to knowing who did the nails because it was very clean work. It was an honor to hear that type of feedback from a judge!" —Shiori Durham, 2016 NAILPRO Cup champion.
"Out of all of the nail competitions that I've done, the one that stands out in my mind was at ISSE Long Beach 2003. I was competing in the French Twist category. It was a new category, and I remember struggling with the design because I wasn't sure how far to push the limits or how much time it would take me to complete them. I drew out a crazy design and practiced it for several weeks until I was comfortable with it. After a grueling weekend of competing, I won first place! The judges said that it was super crisp work, very consistent and very creative. That made me feel awesome! I tried to make the nails as consistent and precise as possible, so for the judges to recognize those things validated all of my hard work." —John Hauk, 2007 & 2008 NAILPRO Team Cup champion.
"I don't feel that I have done my best work yet, but I really like the nails that I created for the Sculptured Stiletto Nail category at Premiere Orlando 2017. It was my first time entering that category, and I didn't realize until the last minute that the nails must be buffed to a high shine instead of using top coat. Thanks to fellow competitor Guin Deadman, who showed me some tricks, I learned how to file and buff the nails properly the night before. I really learned a lot by doing the event—how to do moons properly, the best pink-and-white ratio and the proper filing technique. Even though I made many mistakes and I didn't place (I came in fourth), I am really proud of those nails." —Iryna Gross, 2016 Glossies grand prize winner.
"Each competition set I've done has been a stepping stone toward my ideal work, but my last Fantasy Nail Art competition stands out the most. It was at Premiere Orlando 2015, and the theme was "Gladiator." I always try to find a special story that goes with the theme. This time, I found a legend about the gladiolus flower, and I was able to fully [portray] it with 3-D designs for the competition. I won first place with my highest score ever—98 points out of 100!" —Marina LoPresto, 2014 NAILPRO Cup champion.
"My partner was Tom Holcomb for a Sculptured Nails Pairs Competition in Tokyo in 2004. For the event, two techs sit opposite each other with the model in between, so they can't see their partner's work, and they each do one hand. The two hands must match, as if one person did the entire set. When Tom and I practiced the night before, I recall being scared to death it would be my fault if we didn't win because I kept messing up with the filing. But Tom told me, "You know this! Stop overthinking and just do it!" So, I let my mind go blank and let my hands do the work. When I finished, they were what I had imagined in my head. I did the same thing during the competition. The nails were beautiful and we placed first—the one and only time I ever came in first out of [my more than 20] times competing in Japan. One of the head judges and several others said they couldn't tell which hand was mine and which one was Tom's. When you've mastered your art enough to replicate a 13-time world champion in 60 minutes, you know you have done your best set ever!" —Alisha Rimando, world champion nail artist.
–by Alexa Joy Sherman
This article was first published in the September 2017 issue of NAILPRO
[Images: Courtesy of nail techs]