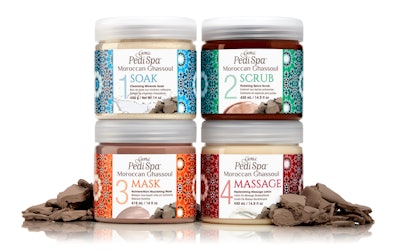 Clay pedicures are trending and Gena Pedi Spa is ahead of the curve to help you offer your clients the Moroccan Hamman experience with its brand new Ghassoul System.
The pedicure collection by Gena Pedi Spa is inspired by the rich natural elements of Moroccan Ghassoul clay, which is derived from deep in the Atlas Mountains and has been used for centuries to beautify and rejuvenate the body in the Moroccan Hamman culture. Traditionally a weekly purification ritual, the Moroccan Hamman beauty routines cleanse, exfoliate and detoxify while encouraging smooth skin, improved circulation, a stimulated immune system and releases toxins. This effective method designed to help clients relax and melt stress away can now be offered at your salon using the Gena Pedi Spa Ghassoul System.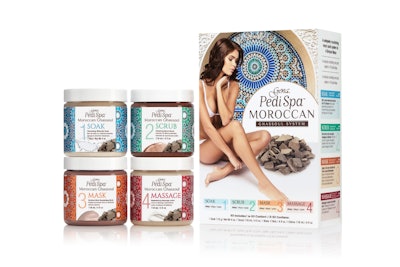 Included in the Gena Pedi Spa Moroccan Ghassoul System: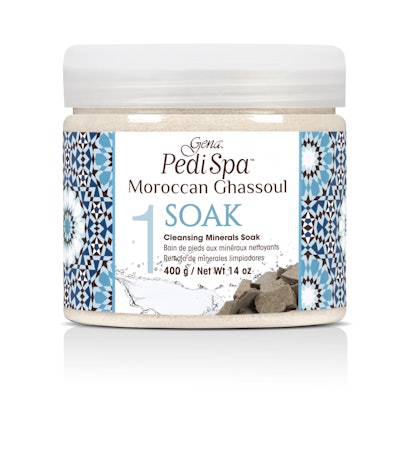 Cleansing Mineral Foot Soak
Infused with aromatic rose water, this foot soak removes dirt and excess oils form clogged pores and eliminates impurities while nourishing and protecting the skin.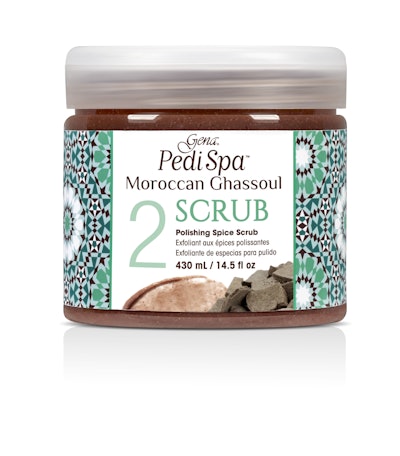 Polishing Spice Scrub
Crafted with walnut shell and a lemon and mint fragrance, this foot scrub is a rejuvenating and energizing exfoliant that polishes and refines dill skin, leaving feet silky smooth.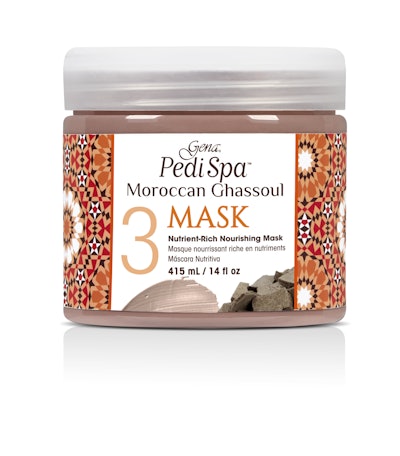 Nutrient-Rich Nourishing Mask
Enriched with nourishing Moroccan Ghassoul Clay, this foot mask replenishes and restores the skin with rich minerals while rejuvenating the senses with eucalyptus.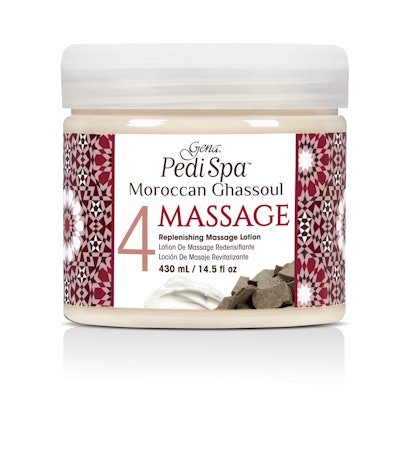 Replenishing Massage Lotion
Combined with nourishing properties of Moroccan Ghassoul clay, this massage lotion thoroughly hydrates the skin with a refreshing and energizing orange blossom fragrance.
Follow these steps to offer your clients' the best clay pedicure using Gena Pedi Spa Ghassoul System.
Pour approximately 0.5 oz of Soak per gallon of water. Allow feet to soak for five to ten minutes before beginning foot care service.
Apply 0.5 oz of Scrub to towel dried skin, smoother over foot and lower lef and gently massage into skin. For a softer exfoliation slightly dampen the skin or add water. Rinse in foot bath with soap and water.
Apply a thin coat (approximately 0.25 oz) of Mask to dry foot and anle and warp with towel or plastic bag. After five to ten minutes, immerse foot into bath and use a towel or scrub to remove mask.
Apply Crème generously (approximately 0.25 oz) to feet and legs. Use your favorite massage technique. After massage is complete, remove any excess product with a warm damp towel.
Watch this step-by-step in action in the video below.
You can shop for the Gena Pedi Spa Ghassoul System here. 
Will you be adding clay pedicures to your menu this season? Let us know in the comments below!
[Images: Courtesy of Gena Pedi Spa]