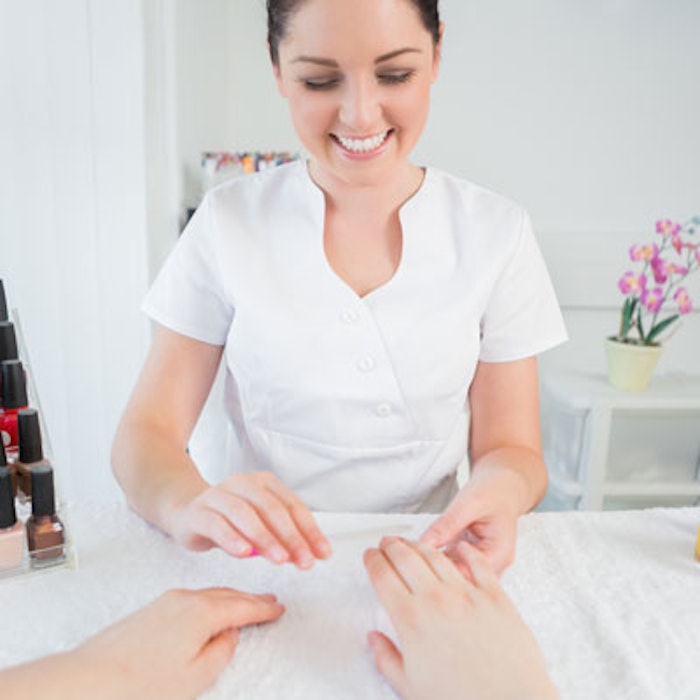 Just received your license and are looking for a salon to call home? If this is your first time working in a salon, it can be intimidating but with these tips from salon owners and nail techs, you'll be more than prepared to nail your first gig. Keep reading for tips on how to land your first salon job.
How to Nail Your First Salon Job: Advice from Salon Owners
"Be confident in your work! Show them that you love what you do and that you can be very beneficial to the salon. Show them what you can bring as a potential asset. Bring something to the table that nobody else can, set yourself apart from the rest, be different and be prepared! Show your work, have photos or social media ready so they can get a feel for your talent and style. Always smile and be professional!" – Kristina
"In my opinion, finding your first salon may be difficult and preparing yourself for an interview even harder. First, research the salon on Google, Facebook, Instagram, etc. As a salon owner, we are quite impressed by the nail technician who does their research about us. Go to the salon dressed and looking your absolute BEST, from your head down to your toes. Ask for the owner or manager by name, introduce yourself, and tell [them] a little bit about yourself, your interest in the manicurist field and what led you to apply to this particular salon. Speak clearly and use proper grammar. Provide a portfolio (if possible). Stay humble; salon owners will most likely hire the student that is nervous, honest and kind rather than the one that comes in overly confident." – Nainai, Ink 'n Paint Owner
"Be confident in yourself and in your work. Be professional and continue that professionalism throughout your career as this will help you build your business, clientele and strengthen your network." – Rozel
"When hiring new nail techs, we don't focus too much on whether or not their technique is perfect. We have even hired people who had no experience at all. We can always train people in our method of working. We believe in friendliness. A genuine smile and easy conversation skills get you a long way. Customers spend a lot of time with their nail techs and no one wants to sit with a sourpuss for any amount of time. When we have a good feeling about a person, we give him/her a one-month trial. In that month, we expect this person to display a positive attitude, be punctual, have patience with customers and his/her fellow team members, be helpful, enjoy doing nails, know the importance of hygiene, and to treat the salon as if it were his/her own." – Priscilla, Owner of Home of Deva Salon
Regardless of where you work, the most important traits future employers look for are:
Kindness and a sociable personality.
Hard-working and dedicated to the salon, not themselves.
Confidence. Believe in yourself and your work. If you don't, how can you expect an employer to?
Bonus tips to getting you hired:
Come prepared with your best work.
Look the part. Look your best, feel your best.
Be humble. Working for a salon means being part of a team. If your ego is too big, salon owners will pick up on that and move on to the next applicant.
Research the salon you're applying to and it's owner/s.
Demonstrate your experience, but show a little naivety too. This goes back to being humble. Show your future employers that you have the skills to succeed, but are also hungry to learn more and grow in your craft.
Landing your first salon job can be daunting but is one of the most rewarding experiences you can have. If you don't nail your first interview, don't give up and keep on trying. If this is your passion and you're dedicated to succeeding in your craft, the right salon will find you.
Good luck to those looking for jobs and thank you to the salon owners who contributed their wonderful insight! Don't forget to check out their Instagram feeds for nailspiration!
What are your tips for nailing a salon job? Share them with us on Facebook!