Day 5 of our December of Giveaways!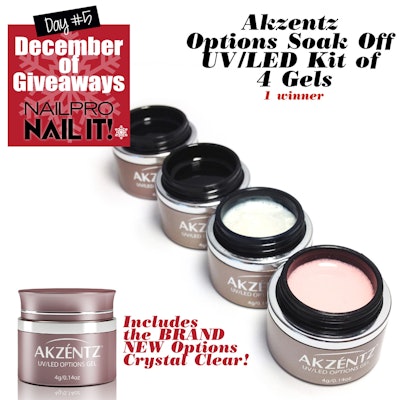 Win a set of 4 Akzentz Options gels, including the brand new Akzentz Options Soak Off UV/LED Crystal Clear gel! It's designed for use as a gloss coverage, or used to build strength in extensions and sculpted nails. It provides nail technicians superior durability and stain resistance with a long-lasting high gloss shine that maintains clarity. It can be used in conjunction with the rest of the 158 Options UV/LED Soak Off Gel colors (yes, it's a soak off, packaged in a jar)! The Options Kit we're giving away contains 4 gels: Options Opti-Bond, Options Colour Satin Pearl, Options Colour Strawberry Cream and Options Crystal Clear.
This giveaway has ended! Our winner is… Sonya S. from Silverdale, WA!
Visit our December of Giveaways for the most recent giveaway.