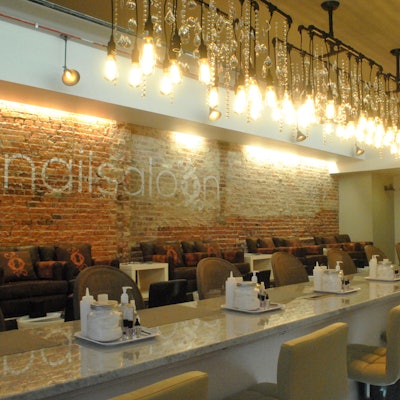 Meet Nailsaloon, a fairly new Washington D.C. salon! We talked with owners Andrea Vieira and Claudia Diamante to get the scoop on their successful business.
DISTINCTION
At Nailsaloon, we want to provide a top-notch, personalized experience to all our clients. Our front-of-house team is vibrant, welcoming and very engaging. Plus, we're very lucky to have phenomenal technicians who really love their craft. We are Washington, D.C.'s only 5-free nail salon, which means that we don't use polishes that contain DBT, formaldehyde, formaldehyde-resin, toluene or camphor, and we don't offer acrylics or gels. Additionally, we are obsessed with cleanliness. The file, buffer and orangewood stick used on each client is sent home with them and the salon's tools undergo medical-grade sterilization.
We are located in the heart of Logan Circle at 14th and P Streets NW and we like to say that we're at 14th and P(habulous) because our neighborhood is one of D.C.'s hotspots—full of bars, shops, restaurants and boutique fitness studios. For us, it's quite a privilege to be here.
We've always felt that it's important to support the community that is supporting the business, so we've committed to giving 3 percent of our daily profits to the D.C. Coalition for the Homeless. Additionally, we are launching S3, the saloon Support System, this fall. It's a mentorship program to network young women who have less access with professional women in D.C., in a fun and relaxing environment—and what better way to be mentored than over manis? We have been identifying mentors since we opened and we are about to finalize an agreement with our mentee organization. We, and our clients, are excited and it's been humbling to witness so many people's desire to get involved.
THE LOOK
We wanted Nailsaloon to feel like a lounge or parlor, and that's where the "saloon" part comes in. People can come here to get their nails done, but also to catch up with friends over a cappuccino or cocktail. Our open floor plan helps make mingling easy. It never seems overcrowded in the salon, even when there are 20 people being serviced. Our decor is neutral and decluttered, with a few focal points that catch the eye. We didn't use typical salon furniture (except for technician chairs, because that's more comfortable for them) because we wanted the space to look and feel more inviting than utilitarian. Additionally, our technicians don't have set stations. Tech stations are dictated by our clients, so they can request to sit next to a friend.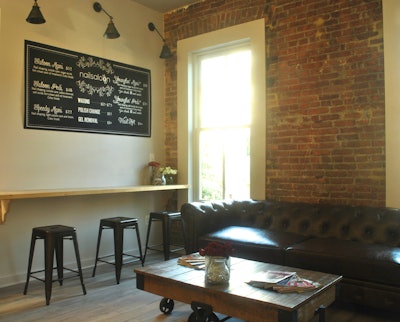 THE CLIENTELE
We have lots of regulars who come in for manis every week and pedicures every two weeks. But we also have many clients who come in for extra pampering when they want a break from their neighborhood salon. We like to joke that we are "fancy," but are also a no-judgment zone (hence the "no mean girls allowed" sign on our website.) Our philosophy is come exactly as you are and you are welcome here.
IN-DEMAND SERVICE
We offer a Saloon Mani for $32 and a Saloon Pedi for $48. Our menu is very simple intentionally. We want clients to feel that once they select a service, their only job is to relax. We don't like to upsell our clients, which is why all luxury add-ons are always included in our prices, such as a hot towel, scrub, callus softener, massage, etc.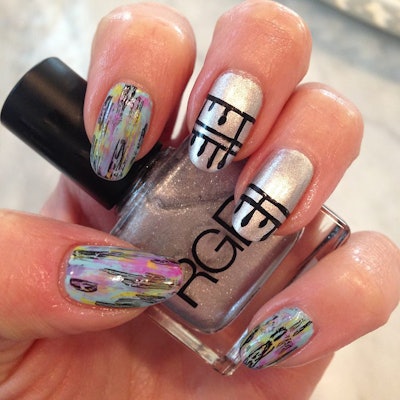 THE GOODS
Zoya, RGB and Priti NYC are the only polishes we use, and we make our scrubs in-house, using organic oils and sugar or sea salt. We do not offer gels or acrylics, but we do understand a lot of people want gel. When they come in, we recommend a nearby salon—and will even call to book for them.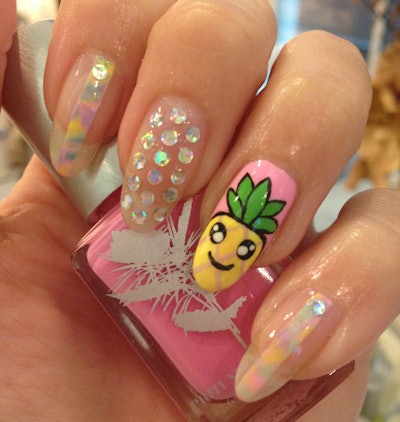 SOCIAL MEDIA
Our clients really love Instagram. We use it to feature new colors or extravagant nail art done by some of our very talented technicians.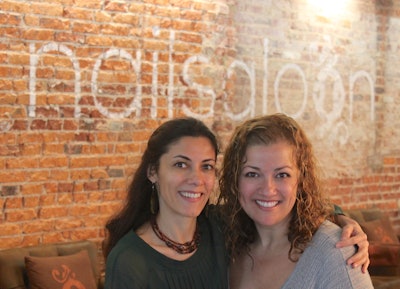 Andrea Vieira (left) and Claudia Diamante, owners of Nailsaloon
PRAISE
We are always so flattered to hear people compliment us, but we think we are happiest when they notice and appreciate the details we worked so hard to bring to reality, whether it's our cleanliness or service quality or consistency. But what we really love is when we see people exchange cards because they chatted and got to know each other while they were here, or when they give us hugs when they arrive or leave.
ADVICE
Building something from the ground up has given us a tremendous amount of pride. And while it's not always easy, it's really quite rewarding. If you are willing to be tenacious and patient, and are game to roll up your sleeves, entrepreneurship is probably the thing for you. Don't get discouraged. The road is often bumpy, but it can lead to a sunny place.
Stats:
Year Opened: 2014
Address: 1508 14th St NW Washington D.C. 20005
Phone Number: 202.299.0095
Hours of Operation: Mon.-Fri., 9 a.m.-9 p.m.; Sat.-Sun., 9 a.m.-7 p.m.
Website: thenailsaloon.com
[Images: Andrea Vieira and Claudia Diamante]