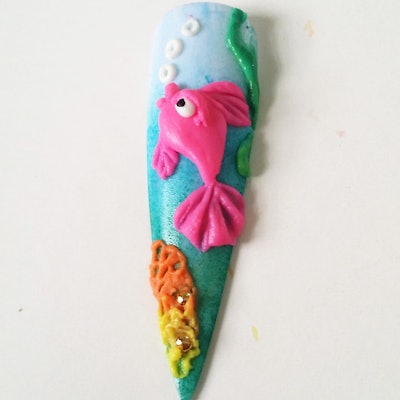 Create a brightly colored aquarium on fingertips! Marilyn Garcia, international educator for Cuccio, explains how to do this sculpted fish scene. Says Garcia, "The great thing about this 3-D powder is that you can mix it with all of the Veneer colors to create a 3-D gel/powder hybrid and you don't have to buy millions of color acrylic shades."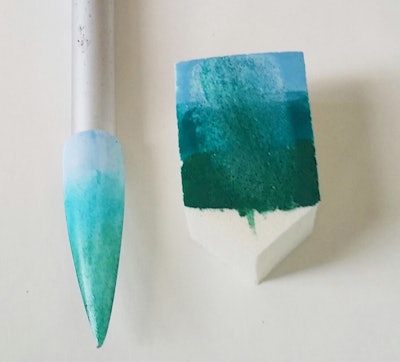 Step 1: Dot a sponge with Cuccio Veneer Under a Blue Moon, Muscle Beach and Jakarta Jade. Using a sponging technique, coat the nail with color and cure. Apply Veneer top coat, cure and remove the tacky residue.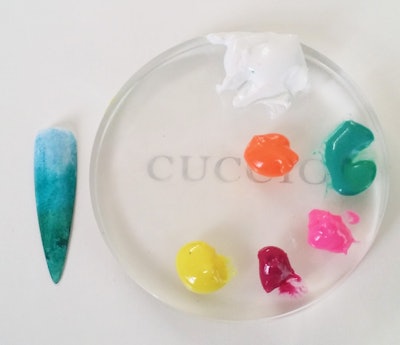 Step 2: Prepare a mix of Cuccio T3 LED Powder and Cuccio Veneer Pink Cadillac. Place a few drops of Veneer on your mixing plate, then slowly add the 3-D powder until you have a mix that has the consistency of paste. Continue creating colors by mixing Veneer White, Sweet Treat, Lemon Drop Me a Line, Jakarta Jade and Very Sherbet each with Cuccio T3 LED Powder.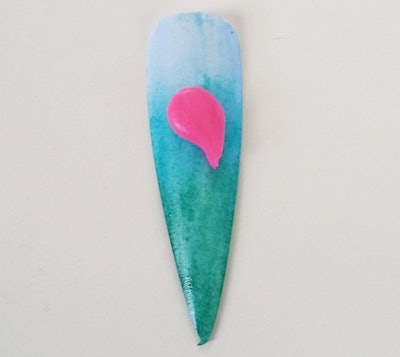 Step 3: With your brush, pick up a large pink bead and place it on the nail. Gently tap the bead with the belly of the brush to create a teardrop shape.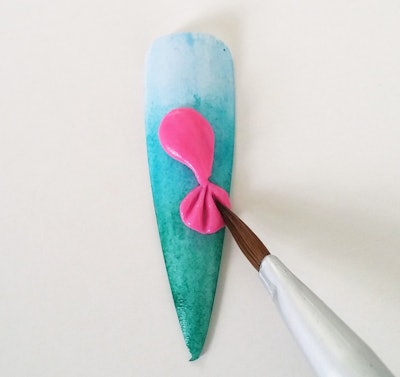 Step 4: Pick up a medium bead of product and place it at the bottom of the teardrop. Use the tip of your brush to create indents in the bead.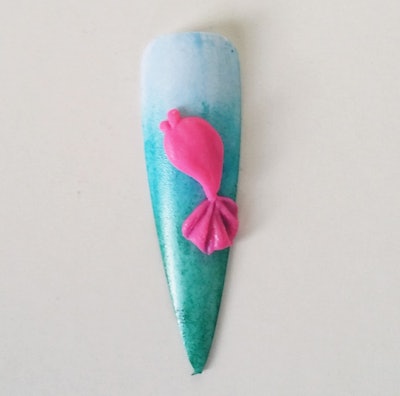 Step 5: Repeat Step 4 with small beads to create two more fins and fish lips.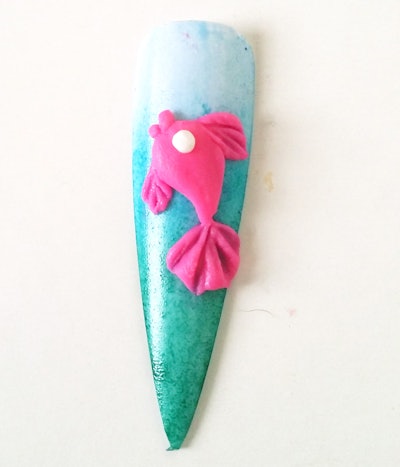 Step 6: Use white to create the eye (above) and bubbles, green for the plants and orange and yellow for the colorful coral (left).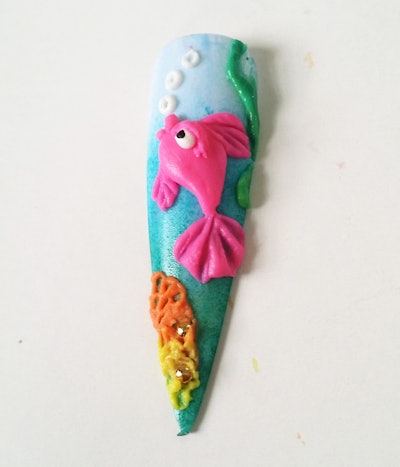 [Images: Marilyn Garcia]