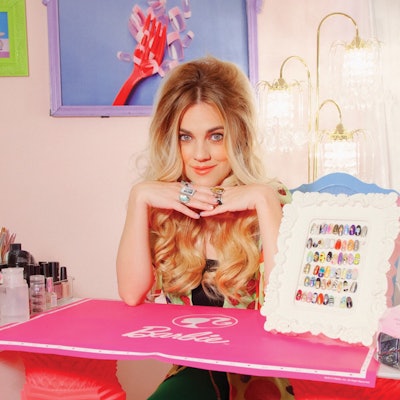 Natalie Minerva (known as @nail_swag on Instagram) has her own nail studio – and we got a peek inside! Minerva talks on what makes Nail Swag Studio unique:
DISTINCTION
Nail Swag Studio is a small, by appointment only, nail art studio located in the Silver Lake neighborhood of Los Angeles. Our goal is to give nail art to nail art lovers. We are constantly trying to reinvent ourselves and [the state of] nail art now by incorporating interesting items into [our work] such as semi-precious stones, beetle wings and abalone shell. The Nail Swag team [focuses] on functional, aesthetically pleasing nails that incorporate a client's fashion sense and personality into her manicure.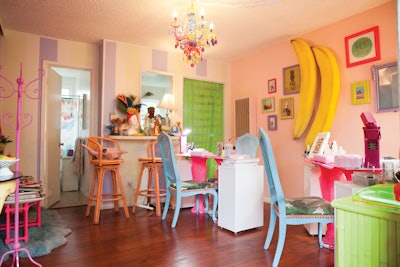 THE LOOK
The studio was designed by the talented Los Angeles-based Cloud Hunter Co. (@cloudhunterco) with a 1960's retro island vibe. I wanted Nail Swag Studio to be a place where clients could relax, be themselves and feel as if they were on a mini vacation. I think most salons want their interior design to be very fresh and clean, but I wanted the studio to be representative of my personality and what I like to do in my art—vibrant, bright and colorful. All the furniture was custom made, including the hand-dyed sheepskin rug, fruit print curtains with beaded fringe and chairs reupholstered in a banana leaf print with orange pom-poms. I'm most proud of the giant velour bananas that hang on my wall; they are from a 1960's strip show in Las Vegas. The [studio] is super kitschy and I love it!
THE CLIENTELE
My client is typical of the east side of L.A.: She's into fashion, music and art, and she's stylish, sophisticated and social. On average, clients spend about $100 to $140 per manicure. About 10 percent of my clients are male and a majority of them want a quick clean up rather than full-blown nail art.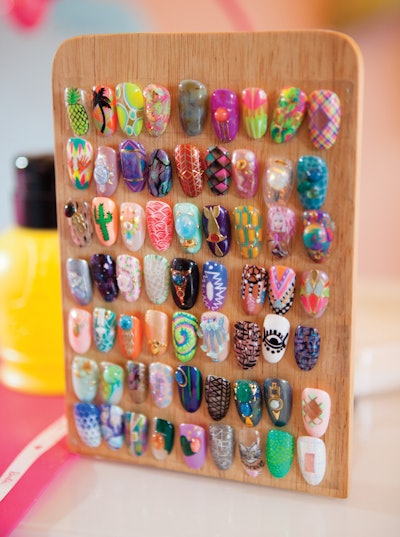 IN-DEMAND SERVICE
I provide only one service: Japanese gel nail art manicures. I don't do pedicures or use nail polish. It's my policy to use only Japanese gel because, when it comes to nail art, gel adds value. (If I did do nail art with polish, my work would chip in a couple of days and nobody wants that!) My nail services range from 1 to 3 hours depending on the complexity of the artwork and the length of the nails.
THE GOODS
I exclusively use Presto Gels by Nail Labo because the product is incredibly durable and great for art. I also have my own gel collection with nail artist Britney Tokyo (@britneytokyo) in conjunction with Nail Labo called Tokyo Swag Art Gels; the colors are hyper-pigmented and non-viscous, and are specifically designed for detailed painting.
SOCIAL MEDIA
Instagram is, hands down, our biggest and best social media channel. It's fantastic for promotion and a great way to get information to the masses quickly. Plus, it offers free advertising with quantifiable results that can show you true statistics.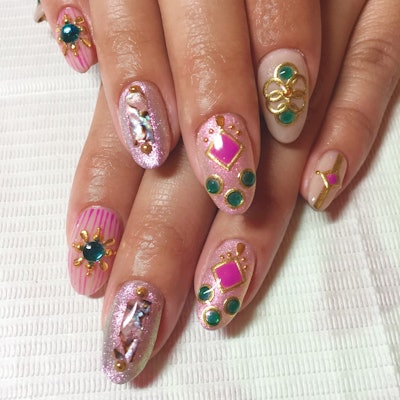 PRAISE
For me, it's hearing that we do great, creative work with fantastic artists. My partner Britney Tokyo and my assistant Mary Wolf (@nail_wolf) work with me at Nail Swag Studio and I'm very grateful to have such talents by my side!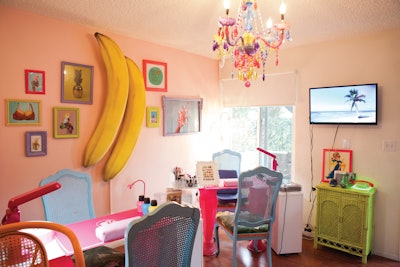 ADVICE
When the going gets tough, keep pushing! The first few months are always hard when opening a new business. Prepare yourself financially beforehand and have a good quality supply of nail products.
Salon Name: Nail Swag Studio
Year Opened: 2013
Address: 1619 Lucile Ave., #4, Los Angeles, CA, 90026
Phone Number: 949.463.0856
Hours of Operation: 9 a.m.–9 p.m., by private appointment only.
Website: nail-swag.com
[Images: Natalie Minerva, Bri Ro, Armando Sanchez]