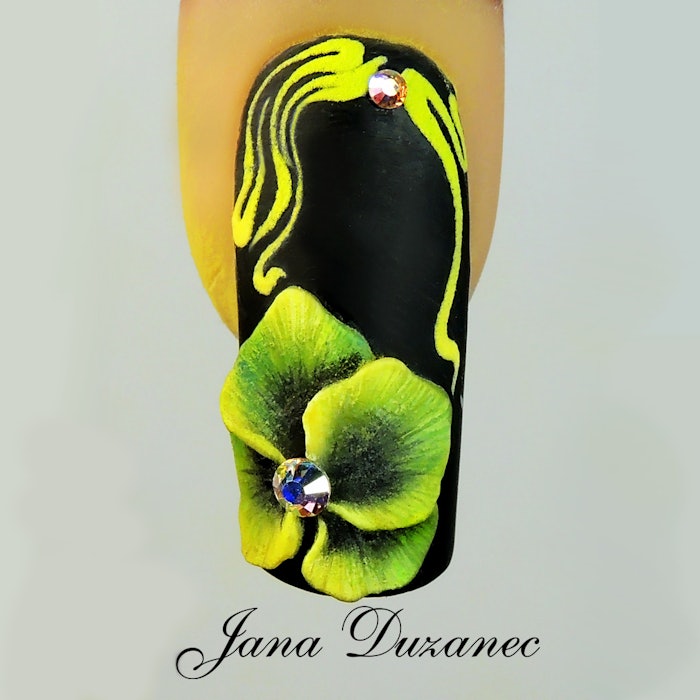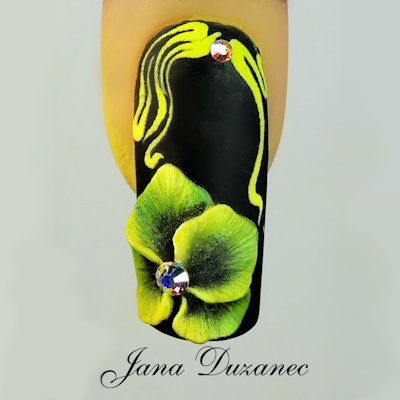 Croatian nail tech Jana Duzanec always takes nail art to the next level. This design incorporates acrylic, gel, rhinestones and acrylic paint, but don't let that intimidate you; follow these steps for a summer floral nail that will showcase a variety of your skills.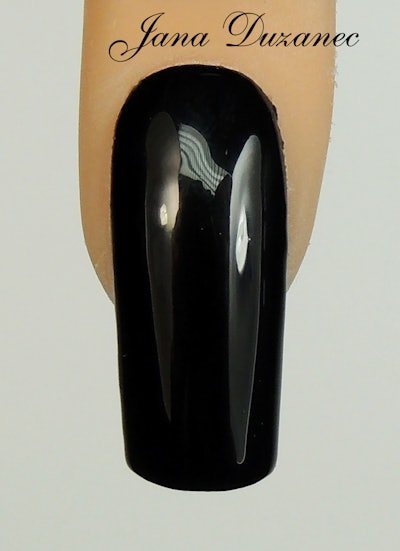 1. Build the nail as usual, shape it and put black colored gel over whole surface.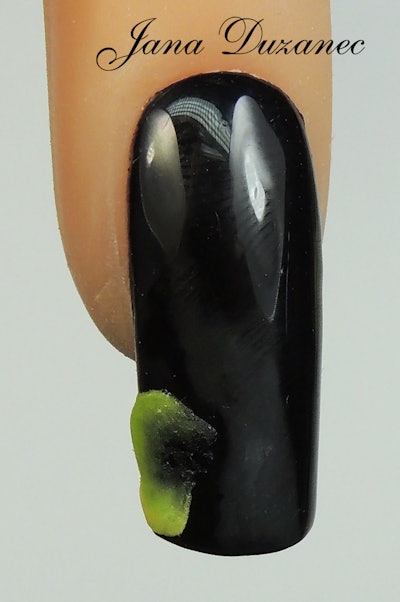 2. Using a brush and green and bright yellow acrylic powder, press out one small flower petal on the left side of the nail.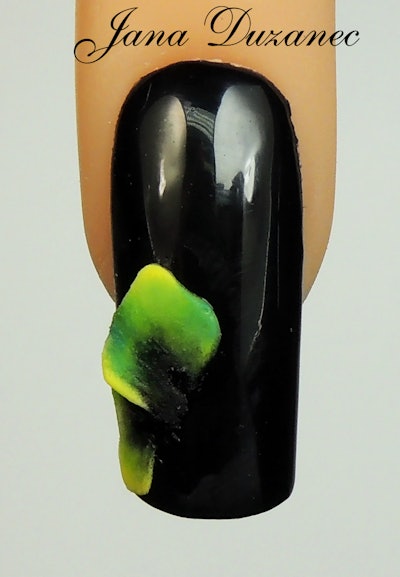 3. Create another petal overlapping the first one. Add black acrylic powder to make shadows inside of the flower.
Continue on the next page. »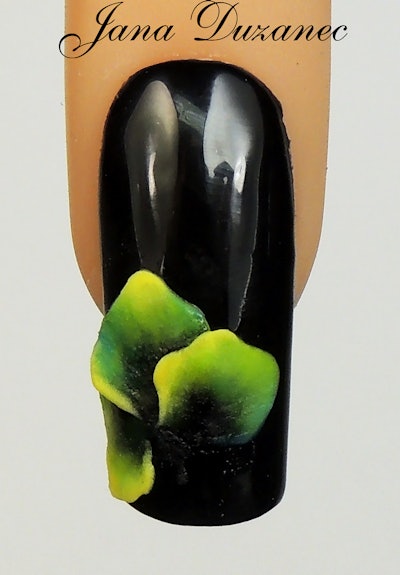 4. Add another overlapping petal. Add light yellow acrylic for highlights!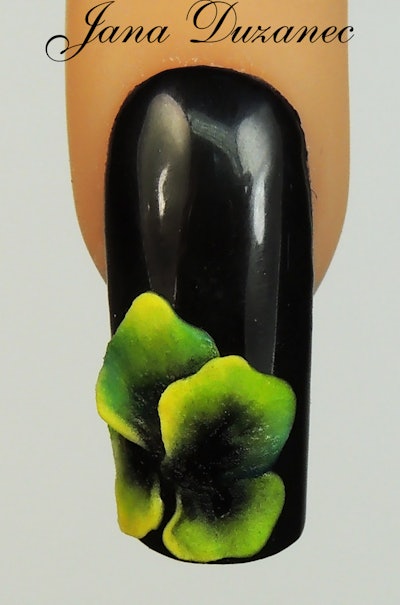 5. Add a fourth petal using green and yellow acrylic.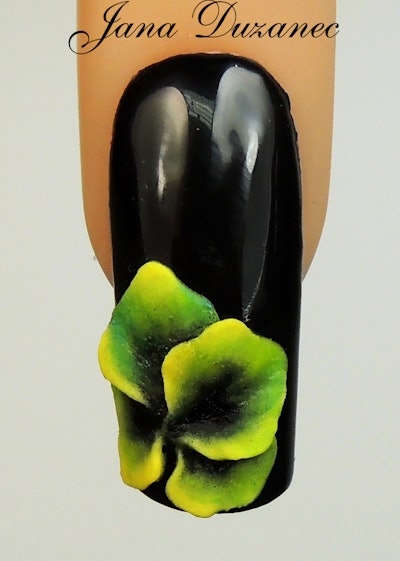 6. With small brush, add more yellow acrylic only on edges of each petal.
Continue on the next page. »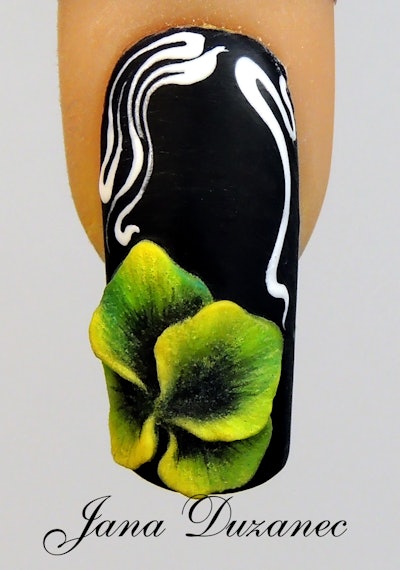 7. Mix or select acrylic paints in the same shade of green, yellow, and black as your flower. Use the paints, water, and very thin brush to add thin lines inside of the flower. Add thin white lines with gel above the flower. Do not cure yet.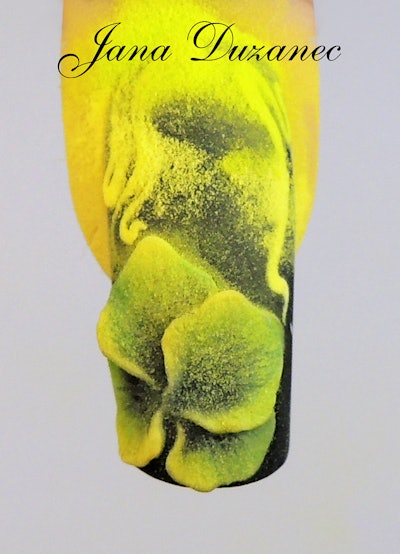 8. Sprinkle the white gel with the green and yellow acrylic powder. Cure your gel according to the manufacturer's directions.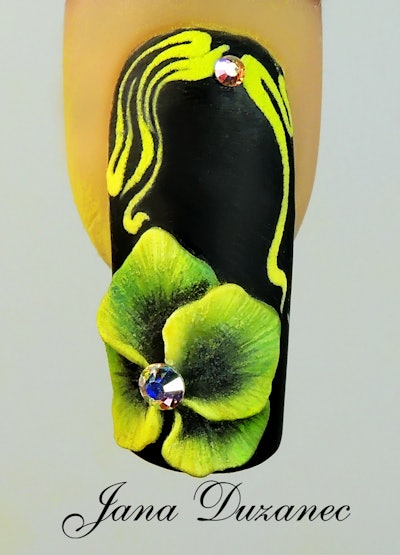 9. Wipe away the excess dust with a nail brush. Add a Swarowski with acrylic or nail glue, and you're done!
Products used are: Jana Nails Gel and EF Exclusive Acrylic
Find Jana online:
Site: nails-jana.com
Facebook: NAILS BY JANA-STUDIO, EDUKACIJA & PRODAJA
[Images: Jana Duzanec]