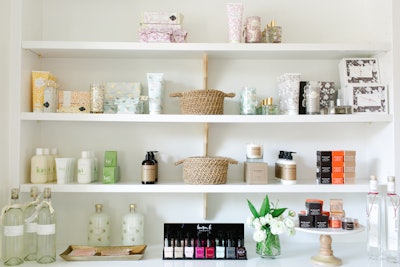 Meet the owners of the new Varnish Lane – Carrie Dunne, Lauren Dunne and Chad Stebbins! We chatted with them one-on-one about what makes their salon unique.
DISTINCTION
Varnish Lane is the only salon in the Washington, D.C. area to offer waterless nail services featuring locally-made, 100 percent chemical-free products. We chose to perform waterless services because we believe it creates a safer and more hygienic service for our clients. Also, by eliminating the use of water, we are saving up to 15 gallons of water per service. So far, clients have been very happy with our natural products and have told us that they don't miss the water. (Some clients have even said that their feet feel softer after leaving our salon than ever before!) We also offer clients iPads so they can browse magazines digitally as well as a variety of beverages. Plus, they can plug their phones into our leather chairs for charging.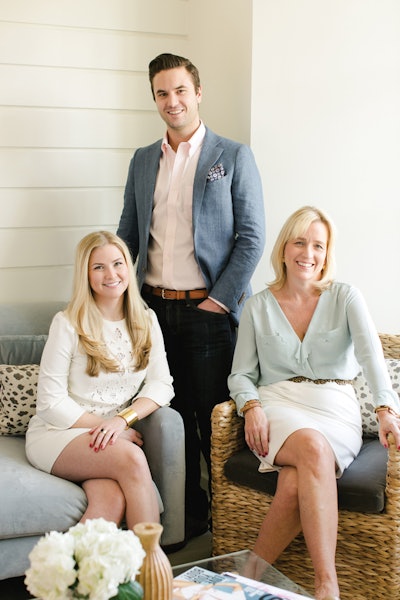 THE LOOK
We wanted Varnish Lane to feel like a comfortable living room. We kept the environment bright and airy with white walls and open spaces. Plus, our space was designed for events and features a large center island that can be used for food and drinks. We want to host bridal parties, birthdays, corporate outings or even just a girl's night out!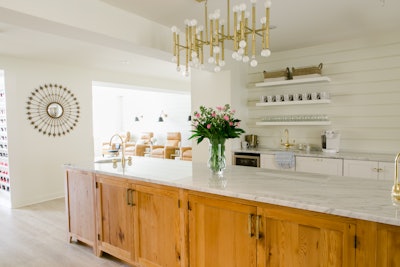 THE CLIENTELE
We cater to all age groups: the young working professional, the young mom and the businessman. On average, our clients spend $50 per visit.
IN-DEMAND SERVICE
Our most popular service is the Main Lane Manicure and Luxe Lane Pedicure. The Main Lane Manicure begins with a warm towel wrap followed by nail shaping, cuticle care and polish. The Luxe Lane Pedicure starts with an all-natural cleansing oil and a warm towel wrap to clean the feet. We then snip, file, buff, shape and clean up the cuticles, including the use of a callus spray and cuticle remover that are extremely effective in getting rid of dead skin. The pedicure also includes a natural sugar scrub and a paraffin wax treatment. Having eliminated the foot soak, we can really focus on the massage in our services:  The pedicure includes a 4-minute massage on each foot!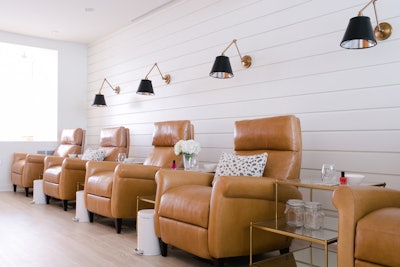 THE GOODS
We wanted to have a fun mix of polishes that are not offered at most other salons. To that end, we offer Deborah Lippmann, Dior, Chanel, RGB, Lauren B, Zoya, Christian Louboutin, Essie, OPI and Smith & Cult. We also retail products from Lollia, Kai, Further and Sara Happ. Our best seller is Sans Skincare, which we also use in our services.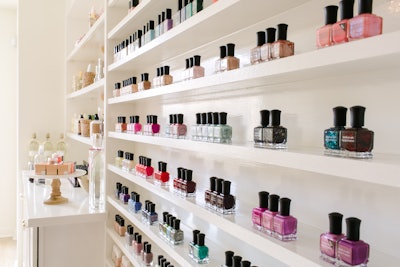 SOCIAL MEDIA
Our clients respond mostly to Instagram. They love seeing pictures of the space or images of fun nail designs.
PRAISE
We have had numerous people ask us when we will be expanding. The fact that people see the potential in our concept and are excited about more locations is the best compliment we could receive!
ADVICE
Work hard, but try to stay balanced.
Varnish Lane
Year Opened: 2015
Address: 5236 44th Street NW, Washington, D.C., 20015
Phone Number: 202.506.5308
Hours of Operation: Tues. – Fri., 10 a.m.-7 p.m.; Sat., 9 a.m. – 5 p.m.; Sun., 11 a.m.- 4 p.m.
Website: varnishlane.com
[Images: Varnish Lane]