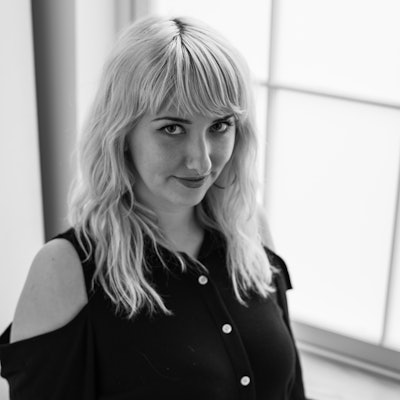 Meet celebrity manicurist Fleury Rose in this month's Q&A!
Us: What was your first job in the industry?
Fleury: Seventeen magazine asked me to do an entire nail art story using my own designs! I was so nervous, but the photos came out so beautifully that I still use them in my portfolio.
Who would you like to work with?
Sophia Coppola. She's such an inspiring director, and I love all her movies!
What inspires you?
I teach nail art to underprivileged youth at The Door in SOHO twice a month. I have met so many young people there, who are bright, passionate and talented in the face of adversity. I always leave with my heart full, and inspired by their stories. It grounds me, and teaches me to be grateful and patient.
What is your proudest accomplishment?
This year Fast Company Magazine named me as one of the top 100 most creative people in business in the world! I got to go to Montreal to receive the award, and had a two page spread in their MCP issue along side people like Jerry Seinfeld, Anna Kendrick, and Mike Will Made It!
My most treasured possession is…
My Boston Terrier Yoshi is my pride and joy! I love animals, and he keeps me laughing.
Are you a morning or night person?
I was never a morning person until I began doing nails. Hello 6 a.m. call times! Getting up early is great because you get so much more accomplished during the day!
My favorite type of food is…
Indian food, particularly Dosas.
What was your most recent impulse buy?
I got an adorable black fascinator at Artists & Fleas in Chelsea Market. Fabulously impractical!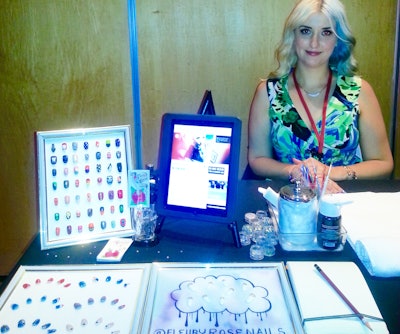 Working with youth at The Door.
 
Describe the best set of nails you've ever seen.
I am always blown away by anything Nagi San from Disco nails in Japan does. She is definitely my nail crush!
My guilty pleasure is…
Taking a day off! When you are an entrepreneur there is ALWAYS something you could be working on 24/7, but it is important to also rest and make time for friends and family.
What are you most afraid of?
Making big decisions! I always stress and debate about choices with my career. Sometimes you just have to trust your gut and go with it!
My favorite type of music is…
Hip hop, oldies, rock—a lot of older stuff. I've been told walking into my apartment is like entering a time warp. I'm kind of a vintage fanatic!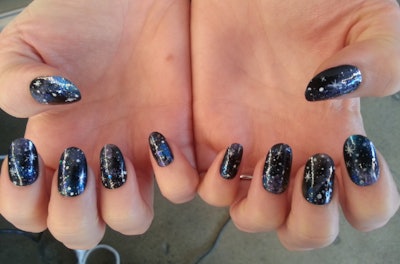 Galaxy nails for Anne Hathaway in Entertainment Weekly.
My favorite movie is…
KingPin for comedy, the original Jane Eyre for drama, Raiders of the Lost Ark for action and Roman Holiday for romance.
If you could be anyone famous, past or present, who would you be?
Bette Davis. I love old movies, and she's the epitome of Hollywood glamour.
What was your childhood ambition?
To move to NYC, and be an artist! I feel pretty lucky I got to make my dreams come true so early in life.
Images: Fleury Rose