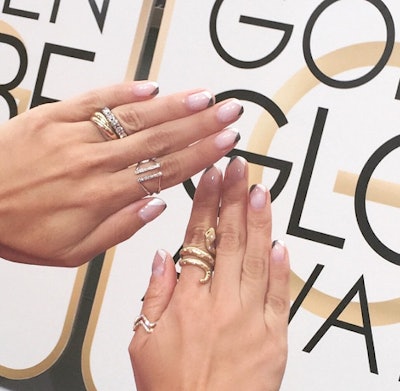 The 2015 awards season has begun! This year at the Golden Globes, celebs showed off nails in classic Hollywood colors, plus we saw hidden nail art on the underside of some nails! Here's the full recap:  
Dark hues and metallics made an appearance when Katie Holmes walked onto the scene. Manicurist Tracy Clemens polished nails with China Glaze Pelican Gray (a soft gray hue) and then used a dry makeup sponge to dab China Glaze Tinsel Town (a graphite glitter in a smoky blue base) onto the tips of nails to achieve an ombre effect.  
  Elaine Watson used Cuccio to create a glamorous Hollywood look for The Missing's Golden Globe nominee Frances O'Connor. Says Watson, "I selected Cuccio Colour Veneer in Tel-Aviv About It, a creamy nude that matched perfectly to her complexion. I also applied this same hue in polish from Cuccio Colour to her toenails. Since she was a nominee, I decided to give her a gold sparkle at the cuticle with a brushed and faded application of Cuppa Cuccio from Cuccio Colour. This not only gave the fingernails some dimension but also caught the light when the hand was moved."
  Tom Bachik readied Jennifer Lopez's talons with a pink metallic hue and small hidden stones on the underside of the nail.
  Tom Bachik completed Jennifer Anniston's look with an Old Hollywood glam mani using a wine-colored shade.
  Heidi Klum showed off her nude nails by Tom Bachik before the show, but kept her dress under wraps!
  Supporting actress nominee Michelle Monaghan from True Detective visited Steph Stone for her pre-show prep. She went with Chanel Provocation.
  Maria Menounos got a mix of our favorites: a little negative space, metallic stripes, and two popular shades from OPI (My Vampire is Buff and Push and Shove.) Her manicurist? Fariha Ali from Enamel Diction.
  TV personality and style expert Lilliana Vazquez had her digits done by Young Nails mentor Patty Caresosa using Caption Polish in Let Life Unfold, Keep It Simple, and Dust Yourself Off.
  Patty Caresosa also got the chance to do polish the short tips of House of Cards' Kate Mara in a hue as dark and broody as the aforementioned Netflix series.
  Burgundy was the nail color of the night! Manicurist Carla Kay fancied up Kate Beckinsale's nails in Red Carpet Manicure Curtain Call.
  Amy Adams walked the red carpet with a delicate look. Deborah Lippmann began with her own collection's All About that Base to even out color and hide any imperfections, then used a coat of Chantilly Lace (a sheer iridescent pink) and added a layer of Bring on the Bling (a diamond shimmer) on both fingers and toes. For a professional finish, Lippmann topped it off with her Gel Lab Top Coat.  
  Lupita Nyong'o never ceases to stun on the red carpet. For this year's Golden Globes, Deborah Lippmann used the notes in the actress' dress as inspiration for a sheer pink pastel and glimmer-gold ombre manicure.
  Salma Hayek wore an elegant white gown – which Deborah Lippmann paired with her bale sheer bisque lacquer called Like Dreamers Do.  
  Emi Kudo gave Julia Louis-Dreyfus a clean, natural look using Essie High Maintenance.
  Julie Kandalec used Essie No Place Like Chrome to create a metallic look for Downton Abbey's Laura Carmichael.
  Michelle Saunders went through the entire Essie Cashmere Matte Collection before selecting a hue called Allure for Taylor Schilling's manicure.  
  Jessica Chastain got "nailed" by stylist Angel Williams using Essie Licorice and a very thin layer of Penny Talk on top.  
  [Cover image: Instagram @tombachik, @lillianavazquez, @stephstonenails]